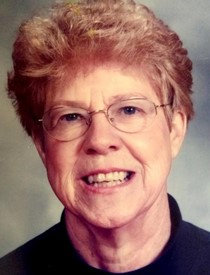 Yvonne Armstrong
9/16/1939 — 6/20/2020
On Saturday, June 20, 2020, Yvonne Sharon Armstrong left this world peacefully, surrounded by her family, to be with the Lord.
Yvonne was born Sept. 16, 1939, in Alexandria, Minn., to Vivian and Helen Reynolds. After moving to Valley Ford, Wash., she graduated from Lyndbergh High School. She had many friends in high school and was a varsity cheerleader. She had several brothers and sisters, and they grew up in a very small house with little money. But talking with her, she would tell you her younger years were very "rich," filled with love and faith.
After high school, she started working at Washington Water Power in Spokane. She was a bookkeeper and loved her job there. She met Melvin Armstrong, and they were married in 1964. They lived in Missoula, Mont., until moving back to Spokane to start a career with the A&W restaurant franchise. They owned and operated several restaurants in Spokane and in the valley with Mel's brother, Dick, and his wife, Frieda.
Yvonne and Mel had two sons, Jeffrey and Jason. They had many friends through their Assembly of God church family. They enjoyed traveling with their close friends and their kids, Larry and Elsie Williams, when they were not busy with the restaurants.
Yvonne moved to Lewiston in 2003 to be closer to her sons and her grandchildren. She worked in elementary school lunchrooms until she retired. During her retired years, she loved spending time with her "boys" Jeff and Jason, and of course, her grandchildren and great-granddaughter. She seldom missed a birthday party, a sporting event or anything that had to do with her family. You could always count on her to be there with a big smile on her face!
Her other family was church. She had a very close relationship with God and shared his message to anyone that she came across, whether sitting in McDonald's drinking a cup of coffee with a stranger or with her friends and family. Her true occupation, and with great success, was being a vessel of God's word.
She is survived by her son, Jeff Armstrong, and wife Christy, grandchildren Jake, Jordan and Jarrett, great-granddaughter Paxley; and her son, Jason Armstrong, and wife Lori, grandchildren Colton, Austin and Shaylee; and her sister, Harriet Tafoya, and husband Ernie, of Albuquerque, N.M. She touched many other lives that we haven't mentioned, and we know she will be missed by many friends and extended family members.
A memorial service will be held at 11 a.m. Saturday at LifeCenter Church, 2377 Appleside Blvd., Clarkston, WA 99403. In lieu of flowers, the family requests donations to Orchards Community Church, lewocc@lewistonocc.org, or LifeCenter Church, care@lifecenter4s.com.
Service Information
Date & Time

Saturday, June 27, 11:00 AM

Location

LifeCenter Foursquare Church
2377 Appleside Boulevard
Clarkston, Washington 99403

Get Directions
Offer Condolences