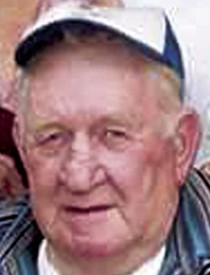 William Wilson
11/6/1932 — 11/22/2017
William A. "Bill" Wilson passed away Wednesday, Nov. 22, 2017, at his home in Kendrick, where he was born Nov. 6, 1932, in the same house, to Lillian (Zimmerman) Wilson and Stewart Wilson.
He was preceded in death by his parents, Lillian and Stewart Wilson; brothers Clarence and Elmer; sister Wilma; first wife Erma May; daughter Ester; and son Alvin. He is survived by his second wife, Darlean Wilson; daughter Diane Clemm; grandson Brian; granddaughter Cristina; and great-grandson Ashjen.
He had a full and busy life. He was born on Gold Hill (Southwick at the time), and went to school on Gold Hill until eighth grade.
He help build the road from the old Cedar Ridge Road to the current spot with his dad, Stewart, and the Civilian Conservation Corps. He was drafted into the U.S. Army and sent overseas to Korea. When he came home he was a logger, cat driver, sawyer for Potlatch Forests Inc. in Camp X, and 3 on the river. A rancher/farmer, he raised cattle and hogs and butchered about 40 per year on the place. He operated his own gas station and had a battery service. He was a telephone lineman on the hill when Gold Hill had their own company. Then he did his own logging with the family.
He enjoyed his hunting and fishing with his kids, grandkids, friends and family.
A memorial will be held at noon Dec. 16 at the Grange Hall in Kendrick on Main Street. A covered-dish dinner will follow with turkey and ham, with mashed potatoes and gravy furnished. The family requests no live flowers, please.
The family welcomes you to come and enjoy and share stories, just like dad liked to talk about and share. Come and have fun and cry with us to celebrate his full life that he lived.
Service Information
Date & Time

Saturday, December 16, 12:00 PM

Location

Kendrick Grange Hall
614 E. Main Street
Kendrick, Idaho 83537

Get Directions
Offer Condolences