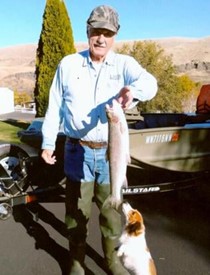 William Max Anderson Sr.
12/25/1937 — 1/29/2023
William Max Anderson Sr., 85, passed away Sunday, Jan. 29, 2023, in Lewiston.
He was born Dec. 25, 1937, to Orburn W. Anderson and Thelma M. Cornell in Coffeyville, Kan.
In his early years, Bill attended schools in Oklahoma and graduated from Laverne High School, in Oklahoma, in 1956.
He went to work for the Boeing Aircraft Co., in Kansas, in 1955, as a field service representative. He retired from the Boeing Co. in May 1993 following 38 years of employment.
Bill married three times, to Sharon K. Whiteman in September 1957, who passed away in April 1997; to Darlene R. Eaton in 1968, who passed away in 2004; and to Linda K. Behrens in May 2016.
In addition to residing in Oklahoma from 1937-56, Bill lived in Wichita, Kan., from 1956-66; in the Pacific Northwest, from 1966-2002, and in eastern Washington, from 2002 up to the time of his death.
Bill was a lifelong sportsman and enjoyed fishing, hunting, camping, motorcycling, building things, and time spent with friends, family and playing ball with his beloved pup, B.B.
He is survived by his wife, Linda Anderson, of Asotin; daughters, Dianna L. Reeder, of Wichita, Kan., and Tamara K. MacDonald, of Tacoma; son William M. Anderson Jr.; stepsons, Donald (Goldie) Bird, of Buckley, Wash., and Sean (Jen) Clark, of Lewiston; stepdaughters, Charlene (Brent) Black, of Arlington, Wash., and Traci (Jim) Reiner, of Clarkston; numerous grandchildren and great-grandchildren. He was preceded in death by his parents, Orburn W. Anderson and Thelma M. Cornell Anderson.
The family invites friends to sign the online guestbook at malcomsfuneralhome.com. No services will held.
Condolences
Bill Rising
I knew Bill from the Harley shop. I always enjoyed riding with Bill. We got to enjoy and talk with him at many of the meeting and Saturday get togethers at the Harley shop. He will be remembered as the guy who was always willing to help and I knew he had a lot of experience and willing to share. My prayers go out ton you.
Thursday, February 16, 2023 8:44 AM
Offer Condolences