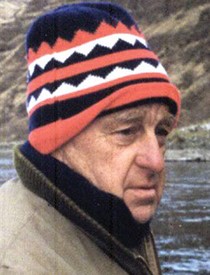 William Kempster
6/20/1930 — 11/27/2017
William Alfred "Bill" Kempster, 87, passed away Monday, Nov. 27, 2017, after a long illness. Bill was born June 20, 1930, in Blackpool, England, to William and Jane Kempster. He married Shirley Lee in 1954 in Blackpool; they immigrated to Lewiston that same year. They spent the next 63 years raising family and working in the Lewiston-Clarkston Valley.
Bill served in the Korean War before settling in Lewiston. Once in Lewiston, he was an independent contractor all his working life. He coached Babe Ruth baseball for many years, often coaching his sons. Bill's real passion, however, was fishing. When he was not working or coaching, he was fishing for steelhead on the valley's rivers or exploring nearby lakes. He taught his four children how to fish and generated their love of the outdoors.
Bill was preceded in death by his parents; his wife, Shirley; and sister Vera Stanton. Bill is survived by his son, Lee, wife Patricia, granddaughters Heather and Angela, and great-granddaughter Celeste; his son, Kevin, wife Pamela, grandson Tyler, granddaughter Shay, great-granddaughter Saryn, and great-grandson Jordan; his daughter, Janice; his son, Brent, granddaughter Brittni, and great-grandson Liam; and many nieces, nephews and extended family.
The family wishes to thank staff at Guardian Angel Homes, who took the time to know and care for Bill.
A graveside service will be held at a later date. In lieu of flowers, the family suggests donations to the Lewis-Clark Animal Shelter.
Offer Condolences