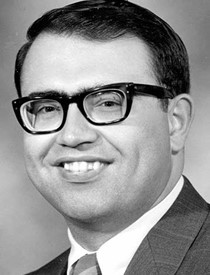 William Cox
10/20/1941 — 9/3/2017
William J. Cox passed away peacefully Sunday, Sept. 3, 2017, at Royal Plaza Rehabilitation Center.
Bill was born Oct. 20, 1941, in Lewiston, a son of Jack Aaron Cox and Chlora Irene (Richardson) Cox. Bill was raised in Lewiston and graduated from Lewiston High School in 1960. He then attended Kinman Business University in Spokane and completed a course study in machine bookkeeping.
He worked in the family business, Cox's Food Center, while attending the University of Idaho. He received his Bachelor of Science degree in business from the University of Idaho in 1969, and he received a Bachelor of Science degree in business education in 1970. Bill continued his studies and received a master's degree in education with a major in business education. After the family business was sold, he worked at Walmart and as a library aide in the Asotin School District. He retired in 2015.
He enjoyed his Christmas collections and he was an avid fan of, and watched, the Seahawks and Mariners.
Bill is survived by his brother, Steve, and his wife, Terry, of Lewiston; niece Mirinda J. Davis of Moscow; nephews Kevin R. Cox of Spokane and Brian L. Cox of Sandpoint, Idaho; and eight great-nieces.
At Bill's direction, there will be no funeral service. The family suggests memorials be made to Lewis-Clark Animal Shelter.
Offer Condolences