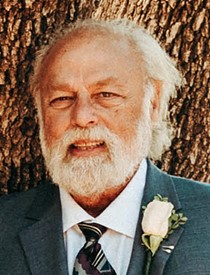 William (Bill) Malcom
6/4/1949 — 6/26/2021
William "Bill" Steven Malcom passed away Saturday, June 26, 2021, surrounded by his family at his home in Lewiston.

Bill was born June 4, 1949, in Lewiston, the fourth child of Kermit and Betty (Wann) Malcom. Bill enjoyed growing up in Lewiston. He attended Whitman Elementary and liked playing with neighborhood kids and swimming at the Bert Lipps Pool. He was active in the Cub and Boy Scouts, where he made many fond memories, from campouts and canoe trips down the North Fork of the Clearwater to attending the 1963 World Scout Jamboree in Greece.

Bill was a natural leader and was elected student body president at Jenifer Jr. High and sophomore and senior class president at Lewiston High School, a role he continued to play through the years as he organized class functions and reunions.

After graduating in 1967, Bill briefly attended Whitman College. After a short break, he moved to Salt Lake City, where he attended the University of Utah. He married Deanna Ebel in 1969 and their son, William Quince Hugh, was born that December on Christmas Day. Bill returned to Lewiston in 1971 and helped with the family funeral home. Bill and Deanna's second child, Misty April, was born in April 1972. They moved back to Utah, where Bill worked in mining as he finished up graduate school, earning his M.Ed. in Special Education in 1975.

He taught at Plummer High School from 1975-76 before being hired by Lewis-Clark State College in the Special Skills Program. After his time at LCSC, Bill worked several different jobs, including running a roller skate making and rental business on Main Street in Lewiston.

In 1981, Bill went back to work for his dad as an apprentice mortician and in 1983, Bill, along with his brother and brother-in-law, Marsh Harwick, purchased Malcom's Brower-Wann Funeral Home, so his parents could retire. Bill attended Mt. Hood Community College in Gresham, Ore., and got his funeral service degree in 1985. That year he gained a stepson, Scott Cary, when he married Kathryn Lafollette. They lived in Lewiston, where Bill worked at the funeral home. He served as vice president and then president of the Idaho Funeral Service Association. He also served several years on the National Funeral Directors Training and Retention Committee.

In 1990, Bill accepted a position as an instructor in Mt. Hood Community College's Funeral Service Program. He was there for 14 years, the last six as program director. In the mid-90s he became involved with the National Disaster Mortuary Operational Response Team.

In the summer of 1997, Bill worked in Northern Ireland and Great Britain, as a guest consultant with Service Corporation International, a large funeral home organization. In 2001, he returned to London as an instructor with the Oregon Community College Study Abroad Consortium. He taught Oregon students at the University of London for one quarter. Bill found the diversity of the city to be an excellent teaching resource—plus the Student Union had a pub in it.

In 2004, Bill retired from Mt. Hood and moved back to Lewiston to manage the funeral home, which he did until his retirement in 2012.
Bill connected with Donna Schock at a class reunion planning meeting in 2006 and they were married at their home in Lewiston in 2009. Donna's children, Amber Brotnov, Lindsay Benedict and Ben Stonecipher, were excited to welcome Bill to the family. He and Donna had an eventful life full of love and laughter.

Traveling, renovating their 115-year-old craftsman home, gardening and spending time with family were among the highlights of Donna and Bill's life together. Always a teacher at heart, Bill taught his grandchildren how to play chess, grow a garden and steer a boat. When he wasn't outside, he was in the kitchen. He was known for his homemade rolls and Belgian waffles—he must have made hundreds of those waffles. Maybe thousands.

Bill's work as the chair of the Urban Forestry and Normal Hill Cemetery Advisory Commission from 2010-2020 had a lasting effect on the community. He revitalized the State Tree Grove at the cemetery, developed a children's book about trees for local elementary schools, and led the cemetery's tree identification program.

Bill loved reading and collected a modest library. He enjoyed boating and captained several trips off the coast of Washington and British Columbia. He enjoyed watching the sunset, the birds racing in the sky, the stars twinkling at night and puppy dogs.

Bill was preceded in death by his father and mother, Kermit and Betty Wann Malcom; sisters Sandra Jo Roberts (James) and Kristin Wann Harwick (Marshall); nephew Michael Roberts; great-niece Kristina Hund; grandparents and great-grands who are all buried around here; his very good friend Samuel English; and his canine friends: Soapy, 2 Bears, Kelly and Duncan.

He is survived by his loving wife Donna; son Quince Malcom; daughter Misty Malcom; stepchildren Scott Cary (Rachel), Ben Stonecipher, Amber Brotnov (Jons) and Lindsay Benedict (Michael Carrasco); and grandchildren Deidra Hakala, Mason Cary, and Jonah, Jonson, Jalen and Amara Brotnov. He is also survived by several nieces, nephews, cousins, in-laws and outlaws, and many friends (he thinks).

Bill was a true Renaissance man whose sense of humor, generosity, kindness and richly resonant voice will be greatly missed by all who knew him.

A celebration of Bill's life will be held at 2 p.m. Tuesday in the Warrior Room at the Hells Canyon Grand Hotel (formerly the Red Lion).

In lieu of flowers, Bill asked that donations be given to the Lewiston Independent Foundation for Education, 3317 12th St. to support their social service and lunch assistance programs. For those who are unable to attend, the service will be live streamed at facebook.com/malcomsfuneralhome. Please sign the online guest book or send condolences at malcomsfuneralhome.com.
Service Information
Date & Time

Tuesday, July 6, 2:00 PM

Location

Hells Canyon Grand Hotel
621 21st Street
Lewiston, Idaho 83501

Get Directions

Additional Details

ATTENTION: Bill's service will be in the Warrior Room, not the Seaport Room
Condolences
Jeff Rolig
RIP, Bill. You were a great guy, a great friend, and the best 'President For Life' that our class ever could have hoped for. My condolences to all his family.
Tuesday, July 6, 2021 1:52 PM
Bob Bay ( Columbia First Call Serv. )
Time was still last week when I learned from Guy Wherity that bill had left us. I worked with Bill from 90 to 95. Guy and I put the retirement party together at the Yacht club. Dan Brenaman the beverage chest (casket) and Batesville made the head panel portrait. If you weren't there you missed one of the best retirement send offs. Ask around. It was a true hoooot. So sad to hear. He truly was a large hearted one of kind man that you will never forget. My very deepest Condolences to the entire family.
To Bill. The fun we had should be outlawed. God's Speed My Man.
Tuesday, July 6, 2021 11:52 AM
Lynn D. Appleford
I met Bill during my short tenure at Brower Wann. Even though we did not work together much I always admired his professionalism and good nature. Couldn't help but find his laugh to be contageous. Great freind and will miss him.
Tuesday, July 6, 2021 8:23 AM
Amie Lynell Moffett-Swenson
Bill will forever be remembered as a mentor, educator, friend, and really cool guy. I graduated class of 2003 at MHCC and would not have had nearly as much fun if it were not for Bill. He was smart, funny, kind and always made you feel heard.
Condolences to his family.. I know you know how special you all were to him. Thank you for sharing his larger than life laugh, his genuine concern, and his valuable time with so many. Forever grateful.
Monday, July 5, 2021 6:16 PM
Ron Schwegel
I'm sorry for Your Loss Bill was such a great Guy Will Miss Him always a bright smile.A Friend for many Years .
Monday, July 5, 2021 8:40 AM
Jane Givens
My fondest memory of Bill is…..1967 LHS yearbook & the picture of the class officers and there is dear olde "fun" Bill giving an inverted "Bird" for all to enjoy! Classic move!
Friday, July 2, 2021 6:13 PM
Terri Halsey
I am so devastated by the loss of Bill. He brought sunshine to the world. I will miss his voice.
Thursday, July 1, 2021 5:44 PM
Ron Clark
It was a pleasure working with Bill and his parents at the funeral home. I not only knew him as a wonderful instructor at Mt Hood Community College but he was also a great friend. He will be sorely missed. Our prayers and thoughts go out to the family. Ron and Mary Clark
Thursday, July 1, 2021 2:39 PM
Matthew Kendall
Bill was one of my instructors in Mortuary School. I always admired his laid back manner in the class room and deep love of funeral service. I became an instructor because of his example. He will be deeply missed.
Thursday, July 1, 2021 2:06 PM
Rhett Diessner
I served with Bill for 5 years on the Urban Forestry and Cemetery Commission. I feel like the phrase, "to know him was to love him" fits. He was delightful to work with; he was one of those rare natural leaders who is not self-centered. Such a beautiful human being.
Thursday, July 1, 2021 8:44 AM
Verna Rock
Bill will be forever remembered by myself and the Mt. Hood graduating class of 1993. What a year -- with Bill and Garth and the friendships we shared then and still will be cherished forever. Condolences to his family, cherish the memories forever.
Wednesday, June 30, 2021 6:48 PM
Dave Huddleston
I was fortunate enough to have known and worked with Bill in his family mortuary where my career in Funeral industry began an continued for 30 years. Bill was a great teacher and was very funny. I know he will be missed. My condolences 🙏
Wednesday, June 30, 2021 3:53 PM
Offer Condolences