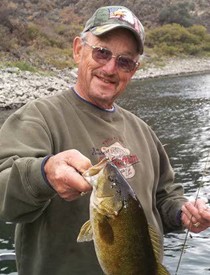 Wes Arnot
11/9/1939 — 1/16/2018
On Tuesday, Jan. 16, 2018, Wes Arnot went home to be with the Lord. He is survived by a son, Mark Arnot, and a granddaughter, Cassidy Arnot. He also is survived by a daughter, Lori Ayres, and grandsons Parker Wilson and Palmer Wilson. He also is survived by his beloved dog Homer. They were inseparable.
Wes was born Nov. 9, 1939, in Lewiston, and spent his growing-up years in Lewiston and Troy. At age 17, he entered the U.S. Navy and was honorably discharged in 1962. He met and married Linda McKinnon in 1961 and they lived in Flagstaff, Ariz., and Seattle, before settling down in Lewiston.
Wes was a true jack-of-all-trades, and his jobs varied from mill worker, Pepsi/Carnation milk driver, auto body repair and paint man, insurance adjuster and auto body instructor at Lewis-Clark State College. His biggest fulfillment was working with students, and he derived much pleasure in their accomplishments.
During the last years, Wes loved working with Ryan Rogers at Rogers Toyota. It gave him purpose and most of the time was his reason for getting up in the morning. He found so much camaraderie with his friends at Rogers and with his extensive knowledge of the auto industry, he was able to work comfortably in all aspects.
Wes could be found bird hunting, running the river and fishing, playing poker with friends, but he especially enjoyed taking trips on his motorcycle.
Friends and family will remember Wes as the kind of guy who'd give you the shirt off his back and always one to offer help or a listening ear. Loyal to a fault, he was never one to mince words; Wes was a straight-shooter.
His children remember an affectionate, no-nonsense man - full of opinions and always sage advice through years of experience. His quick wit and easy laughter will be missed and his genuine caring irreplaceable.
A celebration of life will be held at a later date.
Condolences
CARY ROSS
Wes is my cousin, he was the #1 hero to me growing up and he still is. I look forward to meeting him in person and want to sing praises to our heavenly father together. Everyone, take care and call upon the name of the Lord while you can.
Saturday, September 8, 2018 7:34 AM
Colette
To Mark, Lori, Karen and everyone Saying I'm sorry seems so small compared to Wes. He was the best. Keeping you all in my prayers,
Colette
Friday, January 19, 2018 6:46 PM
Offer Condolences