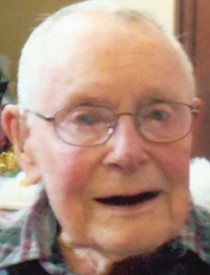 Walter Mallory
1/1/1917 — 3/23/2018
Walter A. Mallory, 101 - a son, a brother, a husband, a brother-in-law, our dad, an uncle, a grandpa and a good friend - has left this world for a better place where he can see, hear and move about in the care of the heavenly father.
He died Friday, March 23, 2018, at the Living Spring Residential Care Center in Lewiston.
He was a longtime employee of Potlatch Corp., working for more than 40 years serving in various administrative and managerial capacities, and retiring in 1981.
He was born Jan. 1, 1917, at Deary to Leslie T. Mallory and Carrie La Bolle Mallory. He graduated from Deary High School in 1935. While in high school he worked summers for the U.S. Forest Service blister rust crew, and for the Civilian Conservation Corps. He received a Bachelor of Science degree in forestry from the University of Idaho in 1940. While attending college, Walt worked summers for Potlatch with a railroad construction crew at Camp 32, near Bovill, at Headquarters with a logging railroad survey crew, and with the USFS at Powell Ranger Station manning a lookout above the Lochsa River. After graduating, he applied to Potlatch for a permanent position and was hired effective May 20, 1940, and assigned as a camp clerk at Camp 24 Headquarters, Idaho. The next summer he was camp clerk for the crew constructing the Long Creek flume at Camp X.
While in college, Walt enlisted in the U.S. Army Reserves and in the fall of 1941, contemplating that he soon may be called to active duty, he was transferred to the Lewiston office and was assigned to the purchasing department. He was called to active duty soon after Pearl Harbor and served more than four years with the U.S. Army during World War II, including time as a battalion adjutant of a truck outfit operating convoys in the China-Burma-India theater and over the Ledo-Burma Road.
While in the service he met Alice Blaskowsky from Olympia, and they were married at Petersburg, Va., on July 14, 1944.
On his release from active duty, Walt and Alice returned to Idaho and his employment with Potlatch. After a short stay at Lewiston, he was assigned to the Potlatch mill office, where he served as cost accountant and office manager.
During his career with Potlatch, they resided 11 years at Potlatch, seven years at Kamiah, as mill manager, and the balance at Lewiston in various positions including chief accountant, Clearwater logging manager, and acquisitions and allocations manager.
He was active with the Boy Scouts in troop and Lewis-Clark Council activities, for which he was awarded the Silver Beaver. He served on the school board at Potlatch and as the chairman of the Kamiah School Board, the Kamiah Chamber of Commerce, the North Idaho Chamber of Commerce and as the president of the Clearwater-Potlatch Timber Protective Association.
He was a Mason, holding dual membership in Kamiah Lodge No. 56 and the Nez Perce No. 10 AF&AM, a 33rd Degree Scottish Rite, a Calam Shriner, and a life member of the Lewiston Elks. He enjoyed golf, hunting, fishing, Lewis-Clark State College and University of Idaho sports, and family activities.
He is survived by two sons, Jim Mallory and wife Sheri of Weippe, and Jerry Mallory of Lewiston; one daughter, Patti Amos and husband Bruce of Lewiston; one sister, Mildred Meserve of Spokane; six grandchildren; and four great-grandchildren.
He was preceded in death by his parents; his wife, Alice; an infant sister, Irene; and a special friend, Vivian Scoville of Lewiston.
Memorials may be made to the Shriners Hospitals for Children, P.O. Box 2472, Spokane, WA 99210-2472.
Malcom's Brower-Wann Funeral Home is in charge of arrangements.
At his request, no services will be held. His ashes, along with Alice's, will be buried at the Elwood Cemetery on Texas Ridge near Deary at a later date.
Offer Condolences