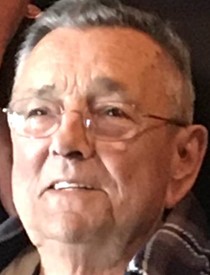 Walter Forge
7/7/1929 — 8/31/2018
Walter Lee Forge passed away Friday, Aug. 31, 2018, at his home in Lewiston. Walt was born in Clarkston on July 7, 1929, to Harold and Ada Forge. He spent his younger years in Clarkston and graduated from Clarkston High School in 1947. Walt played football and basketball for the Bantams and enjoyed many fun times with many classmates who continued to remain close for years. He joined the U.S. Army, serving two years.
He returned to the valley, where he met the love of his life, Barbara Jean Young. They were married Dec. 12, 1952, in Spokane. Together they had three sons, Hal "Hoover," Steven "Bones" and Dan "Boone." Walt worked hard all his life to provide for his family, sometimes working two to three jobs at a time. He worked briefly for Potlatch but quickly moved on to be a truck driver, first with a mail route between Lewiston and Spokane, and then to what seemed like his calling, distributing beer. The majority of his working life was spent as the co-owner and manager of P&F Distributing for Budweiser, Miller and Lucky Lager beer. Walt retired in 1991.
Walt was loved by so many in the beer industry, especially by his employees. He was also known for his love of people, infectious laugh and ability to make friends with everyone. Walt whistled and sang "do-ta-do" all his life. The only time he got riled up was when one of his teams, especially the Mariners, was not winning. He was truly the happiest person one could know, always laughing, singing, giving "smooches" and hugging everyone.
Walt and Barb enjoyed traveling throughout the U.S. to many Budweiser beer conventions. They also loved watching their sons and grandkids play sports wherever it took them, including American Legion and College Baseball World Series trips in Tennessee, New Hampshire and Missouri, an NCAA basketball tournament in New Mexico, Las Vegas for AAU basketball and many places throughout the Northwest. The past few years, he loved going to Vegas to watch Gonzaga play in the WCC basketball tournaments and trying his notorious bad luck on the blackjack tables. He also loved to travel to the Oregon Coast with all of his family, making it a tradition for many years. He thought there was nothing better than clam chowder at Mo's restaurant in Florence, Ore.
After retirement, he took up with his "Golf Buddies" several times a week, lighting up the golf course with their numbers and having the most fun on the 19th Hole. As the years went by, the golfing waned, but the friendship and fun continued, meeting regularly at Bryden Canyon Golf Course for breakfast and "rolling the dice" for who paid. Walt swore he ended up with the bill more than most.
In 1981, Walt and Barb established a beautiful family cabin at Freeman Creek. His greatest joy was having all of his family and friends gather together, celebrating holidays, family reunions, fishing, snowmobiling, anything as long as he was surrounded by family. One of his last outings was a weekend trip at the cabin, blueback fishing with his three sons.
Walt's legacy is the love that he had and showed for his wife, his boys and their wives, grandkids, family and all of his close friends. He was truly loved in such a special way by so many. He will long be remembered by the deep expression of love and joy for life that he demonstrated in so many ways to so many. The family is so thankful for all of Walt's friends and family that came to say their goodbyes and share stories with Walt in the last two months, including several visits from his nephew, Greg, and nieces Shelley, Terry, Cindy and Jennifer from out of town. We also thank his special friend, Vera Walker, for her companionship, support and devotion to Walt. His immediate family, including most of his grandkids, gathered to surround him with love, day and night, until he left us peacefully. It meant so much to Walt and the family. We also thank Sister Margie Schmidt and the St. Joseph Regional Medical Center Hospice staff.
Walt was preceded in death by his father and mother; all five of his siblings, Elsie, Genevieve, Bud, Eva and Ernie; and his wife, Barbara. He is survived by sons Hal (Terrie), Steven (Kathy) and Dan (Brenda) Forge, all of Lewiston; 10 grandchildren, Chad Williams, Nick Williams, Bryce Forge, Hali Forge, Matthew Forge, Meagan Forge, Taylor Forge, Brett Forge, Kendall Forge and Parker Forge; and eight great-grandchildren.
A viewing will take place from 4 to 6 p.m. Thursday at Malcom's Brower-Wann Funeral Home, 1711 18th St., Lewiston. A graveside service will be held at 11 a.m. Friday at Lewis-Clark Memorial Gardens, 3521 Seventh St., Lewiston, with a celebration of life service following at 12:30 p.m. at the Red Lion Hotel Seaport Banquet Room, 621 21st St., Lewiston. Please join the family for a luncheon and sharing at the Seaport Room following the service. Visit the online guest book at www.malcomsfuneralhome.com.
In lieu of flowers, donations may be made to a charity of your choice or to Shriner's Hospital for Children, 911 W. Fifth Ave., Spokane, WA 99204, which was a special place for Walt as his son, Steven, received care there when he was a small child.
Service Information
Date & Time

Friday, September 7, 11:00 AM

Location

Lewis-Clark Memorial Gardens
3521 7th Street
Lewiston, Idaho 83501

Get Directions
Condolences
DANA BRACKETT
To the Forge family.....My thoughts and prayers are with you. What a legacy that your mom and dad have left. They raised some great boys! I will forever remember the wonderful laugh your Dad had....such a fun man to be around. God Bless you always.....
Thursday, September 13, 2018 9:42 AM
Cindy Hardin
Who ever had an encounter with Walt Forge and not immediately love the guy and walk away forever remembering his chuckle!? Hal, Steve, Dan...what lucky boys you are to have had this man for your dad. I know how much you and your family will miss him. I do pray that all the fond memories of him will keep him alive forever in your hearts. Even tho the years have been distant between us...I still love you guys! Cindy
Saturday, September 8, 2018 10:04 AM
Randy and LeAnn McNair
To Hal, Steve, Dan and Your Families
We send out our heartfelt condolences to one of the nicest Family I have ever known.
Randy and LeAnn McNair
Saturday, September 8, 2018 8:52 AM
Greg Jones
One of the finest men I have ever had the privilege of knowing. I have so many great memories of the times we were "working" together!!! My condolences to all the family.
Greg Jones
Friday, September 7, 2018 6:59 PM
Mike and Paula Hasfurther
Walt's infectious smile, laugh and his genuine hugs will be missed by us all. We are the lucky ones that got to share in his life. He's affection and love of people was instilled in all his sons. We all had some great time with Walt and Barb and their legacy will live on in all of children.
Mike and Paula Hasfurther
Friday, September 7, 2018 10:27 AM
Dennis and Carol Knight
Heartfelt thoughts and prayers to the Forge Family. May peace be with you.
Friday, September 7, 2018 8:05 AM
Edna, Dan and Carol Leachman
We will greatly miss Walt's laugh, hugs and oversize personality. Our thoughts and prayers are with your family.
Thursday, September 6, 2018 2:56 PM
Randy & Stacie Dean
May your memories bring you comfort and peace during this time .
Thursday, September 6, 2018 1:30 PM
Sylvia Everett
I'm so sorry to hear of Uncle Walt's passing. He was a very special person and will be missed by many. God bless his family.
Thursday, September 6, 2018 1:15 PM
Melanie and Dale Reed
We feel so very fortunate to have met and spent some time with Walt, and we loved him. His legacy will live on through his amazing family, whom we love as well. Our hearts are with all the family during this difficult time.
Thursday, September 6, 2018 11:23 AM
Anna May (Sipes) Perkins
Walt was a kind and very special person, always with a huge smile for everyone.
I do remember him fondly.
Thursday, September 6, 2018 10:55 AM
Lynn Appleford
The world just lost a great man. So sorry for your loss.
cannot attend the memorial due to out of town commitment. My thoughts are with you.
Thursday, September 6, 2018 9:13 AM
Lee Ann Hostetler (Pete)
Walt's way with life is reflected in all of his sons. You are all such kind loving human beings. Although I wasn't one of the lucky ones that got to hang around your home growing up I am sure it was a happy place to be. Walt's chuckle and happy countenance will be so missed.
Thursday, September 6, 2018 8:15 AM
Wes Sodorff
My thoughts and prays are with you. The last Lucky Lager i ever had was with Walt after a softball tournament win!!!
Thursday, September 6, 2018 7:31 AM
Gary and Connie Riggers
Your family was blessed with the best parents and wonderful memories that will last you all a lifetime. Gary and I send our most sincere condolences.
Gary and Connie Riggers
Wednesday, September 5, 2018 10:16 AM
Offer Condolences