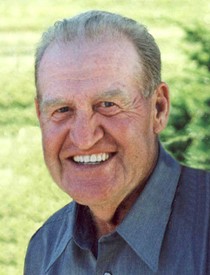 Wallace (Arlie) Hill
5/1/1926 — 4/21/2019
Wallace Lyle "Arlie" Hill, 92, a longtime resident of Nezperce, died Sunday, April 21, 2019, in Lewiston, surrounded by all of his children.
Arlie was born May 1, 1926, the fourth child of Wallace Edward Hill and Lucy Jane Vanderheyden Bacon, in Nezperce. On March 31, 1951, he married Frances Elizabeth (Francie) Jacobs at Spokane; they had celebrated their 67th anniversary before she passed last year.
Arlie overcame childhood polio, but remained undersized and underweight for several years. When he was 13 years old, his father suffered a disabling heart attack, and Arlie single-handedly took over the family farm. In the meantime, he partnered school with work. Some of his teachers graded him on the quality of his work, rather than the quantity, which helped him earn enough credits to graduate from Nezperce High School in 1944.
For Arlie, manufacturing farm equipment accessories began with a personal need. Because it was difficult for him to lift a harrow, he invented the first hydraulic harrow cart. Soon he was building them for his neighbors, and eventually for farmers as far away as New York, Florida, Canada and everywhere in between. He was known to buy farm equipment, then immediately tinker with them to make improvements. Although his formal education was limited and Arlie never had an engineering course in his life, he became a renowned inventor of helpful farm implements of many kinds.
Besides his mechanical ability, Arlie became known as an equipment problem-solver. People often would call him on the phone from around the country and describe a situation that was bedeviling them. Arlie said he would ask questions, and before long the callers would figure out a solution. He always said it was a good feeling when you accomplished something, no matter how small it was, and instilled that in his children.
In addition to farming, Arlie operated commercial spraying and no-till drilling businesses earlier on. He continued farming and designing until his mid-80s, when he lost most of his eyesight.
Arlie was a self-taught musician, playing the piano, guitar and harmonica. He enjoyed dancing, hunting and fishing whenever work allowed. He was very active in the community and farming organizations, holding many elected positions. Arlie will be remembered for his sense of humor, big smile and positive outlook.
He leaves behind three daughters, Charlene (Carroll) Keith of Clarkston, Kathy Rehder Parker of Boise and Connie (Mark Boisselle) Hill of Idaho City, Idaho, and two sons, Bill (Therese) Hill of Cottonwood and Lenny (Chris) Hill of Nezperce. He leaves one sister, Grace Baldus of Nezperce, as well as 15 grandchildren and 33 great-grandchildren. He was preceded in death by his wife, Francie; his parents; one brother, Ralph Hill; and three sisters, Doris Irene Brasch-Sundahl, Mary Roena Wendover and Lucy Marie (Joe) Meiners.
A graveside service for Wallace "Arlie" Hill will take place at 11 a.m. Saturday at the Nezperce City Cemetery. A reception will follow immediately at the Nezperce Community Center in the Nezperce Library, 602 Fourth Ave.
In lieu of flowers, donations can be sent to Nezperce Regional Emergency Services, P.O. Box 164, Nezperce, ID 83543.
The family of Arlie and Francie wish to thank the staff and residents at Brookdale Lewiston for their friendship and loving care of our parents in their last year.
Service Information
Date & Time

Saturday, April 27, 11:00 AM

Location

Nezperce City Cemetery
Lawyer Canyon Road
Nezperce, Idaho 83543

Get Directions
Offer Condolences