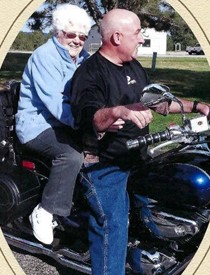 Vivian Martin
10/17/1924 — 4/20/2021
Vivian Martin was born Oct. 17, 1924, in Cream Ridge, Idaho, to parents William Henry Jack Rugg and Reva Pearl Bratcher Rugg. Vivian had a brother, Bill Rugg, and a sister, Helen Triplett.
Vivian went to school in Cream Ridge until the seventh grade and finished eighth grade in Southwick. Vivian Rugg married Chester L. Martin on March 11, 1947, at Coeur d'Alene. They lived in Southwick running their ranch. Several years later, they moved to Lewiston where Vivian went to work at Twin River Foods. Vivian enjoyed traveling, reading, gardening, crossword books and her family.
Vivian was a very hardworking woman and always cared for others. Vivian was a member of the United Methodist Church in the Orchards. After Chester Martin passed, Vivian chose to move to Newcastle, Wyo., to live with her grandson and his wife, Todd and Sandra Martin, where she peacefully passed away at home Tuesday, April 20, 2021. Vivian passed away with natural cause.
She was preceded in death by her spouse, Chester L. Martin; parents William and Reva Rugg; brother Bill Rugg; sister Helen Triplett; grandson Beau Martin; and granddaughter Brooke Flynn. Surviving family members are son Gary (Lynda) Martin; grandson Todd (Sandra) Martin; granddaughter Lori Flynn and her spouse, Kent Flynn; Alicia Martin, Wyatt Flynn, Walker Flynn, Heather and Mike McMillan, Colleen Johnson, David and Cori Johnson, Ashton Johnson and Tramayne Johnson.
Graveside service will be at 11 a.m. Saturday at Lewis-Clark Memorial Gardens, 3521 Seventh St., Lewiston. The officiant will be Pastor Mike Lawson of Orchards United Methodist Church.
Service Information
Date & Time

Saturday, April 24, 11:00 AM

Location

Lewis-Clark Memorial Gardens
3521 7th Street
Lewiston, Idaho 83501

Get Directions
Offer Condolences