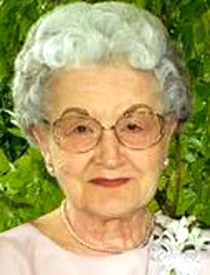 Vivian Daniels
9/9/1924 — 11/3/2020
Mom's heart of gold stopped beating at 8:36 a.m. Tuesday, Nov. 3, 2020, at Unique Senior Care in Lewiston. She was 96 years old.
She was born Sept. 9, 1924, in Cresbard, S.D., to Charles Desney Fey and Susia Anna (Mason) Fey. She was the seventh born of 10 children and the last Fey child to pass away.
Vivian went to school in Cresbard through the seventh grade, and in June 1937 moved with her family from Cresbard to a farm on Fix Ridge near Juliaetta. She attended school at Fix Ridge and Genesee, moving in 1939 to their last family home on Potlatch Creek. Vivian graduated from Kendrick High School in 1942 in the building that is now the V.F.W. Hall. She was a baton twirler with the high school band, played the guitar and sang in a trio. Her first job out of high school was hoeing beans for Roy and Mabel Glenn, where she encountered her first rattlesnake.
During WWII, Vivian worked in Spokane and Vancouver, Wash. She married Harold A. Bartlett on Aug. 19, 1945. They lived in Troy, Ore., and Lewiston. They had two children, Dianna (Stan) Hill and Terry (Lisa) Bartlett; five grandchildren and 10 great-grandchildren; four stepgrandchildren and three stepgreat-grandchildren. They were married for 29 years. They later divorced.
Vivian married Erle Daniels on May 2, 1975. They built their log home east of Kendrick before moving to Lewiston in 1992. She had three stepdaughters, Sherri (Dick) McMillen, Susan (Dave) Dokken and Lisa (Jeff) Brice; five step-grandchildren and six step-great-grandchildren by this marriage. They were married for 36 years before Erle's death on March 11, 2012.
Vivian worked for the Lewiston School District's school lunch system for 11 years, Economart grocery store, Paramount Pest Control and the Nez Perce County Treasurer's Office, retiring in October 1986.
Vivian enjoyed camping, loved to go dancing and play cards. She taught all of her grandchildren to play cribbage. In fact, she did such a good job, they even beat her now and then. She was a wonderful cook and piemaker. No one ever went hungry at her house. She was an excellent seamstress, making a lot of her and her family's clothes.
Vivian was raised on hard work, always full of life and fun to be around; however, she had been struggling since February 2015 with declining health from her third case of the shingles and her loss of eyesight, which made it difficult to do things she loved.
She was preceded in death by her parents, Charles and Susie Fey; brothers Everette "Bud" Fey, Roy Fey, Harlan Fey and Teddy "Ted" Fey; sisters Susie "Brib" Nicholas, Lola "Polly" Augustine, Eva Rosenau, Nellie Heimgartner and Lois Fraser.A viewing will take place from 2-6 p.m. Wednesday, Nov. 11, at Malcom's Brower-Wann Funeral Home in Lewiston. A graveside service will be held at 1 p.m. Thursday, Nov. 12, at Lewis-Clark Memorial Gardens in Lewiston.
Service Information
Date & Time

Thursday, November 12, 1:00 PM

Location

Lewis-Clark Memorial Gardens
3521 7th Street
Lewiston, Idaho 83501

Get Directions
Offer Condolences