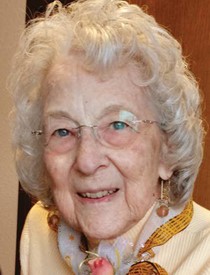 Violet Juran
1/8/1920 — 4/6/2018
Violet passed away Friday, April 6, 2018, at Wedgewood Terrace at age 98. On the day she went to heaven, the violets were blooming.
Vi was born Jan. 8, 1920, at Elk River, the second of five children born to John and Ida Smithwick. The family later settled on a farm north of Genesee, where Vi developed her strong work ethic. She helped with all the farm chores and even worked with her dad splitting cedar shakes and posts.
She was a student at the one-room Lone Star School near Cordelia, graduated from Genesee High School in 1937, and attended the University of Idaho.
Vi had many jobs in her early years, including as secretary at Boeing in Seattle and as legal secretary for Ed Butler in Moscow. Later in life, her favorite job was secretary to the director of vocational education at Lewis-Clark State College. She retired from LCSC in 1985.
Vi married Lonnie Juran at the Juran family farm Sept. 20, 1941. They lived in Seattle at the beginning of World War II, eventually returning to Idaho and settling in the Lewiston Orchards. After 72 years of marriage, Lonnie passed away in 2014.
Vi is survived by her daughters, Donna (Jeff) Johnson and Karen (Dennis) Thorson of Lewiston. She also is survived by her sister, Bonnie (Vince) Dressel of Lewiston; her four grandchildren, Jared (Casey) Johnson of Lewiston, Derek (Tiffany) Johnson of Genesee, Kirk (Taiya) Johnson of Kamiah, and Cori (Dick) Straw of Lewiston; 14 great-grandchildren; four great-great-grandchildren; and many nieces and nephews.
She was preceded in death by her husband; parents; sisters Etta Taylor Smothers and Betty Osmundson; brother Bobby Smithwick; and her favorite grand wiener dogs, Pete, PJ and Gus.
Our mom, grandma, and GG was a wonderful cook, grew beautiful flowers, and could sew anything from suits to baby clothes, wedding dresses and quilts. She was always working but no matter how busy she was, she was never too busy to help us with anything. In her memory, cook your family and friends a huge dinner (and do not forget the dessert) or teach a child how to sew or raise a garden.
Our mom is in heaven fixing the flower beds, canning the extra fruits and vegetables, or on the porch having coffee with our dad.
The family would like to thank the staff at Wedgewood Terrace and Royal Plaza for the wonderful care they provided for Mom. You are angels on Earth.
A graveside service will be held at 11 a.m. Saturday at Lewis-Clark Memorial Gardens in Lewiston.
Service Information
Date & Time

Saturday, April 14, 11:00 AM

Location

Lewis-Clark Memorial Gardens
3521 7th Street
Lewiston, Idaho 83501

Get Directions
Offer Condolences