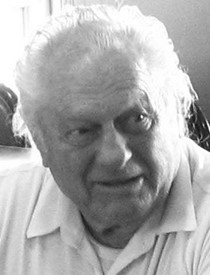 Thilo Edmonson
6/17/1928 — 2/20/2018
Thilo Francis Edmonson passed away Tuesday, Feb. 20, at Brookdale Assisted Living, in Lewiston. He was born June 17, 1928, on Upper Fords Creek near Orofino, to Marion Elmer Edmonson and Margaret Ann Nette. Being one of a set of triplets, quite amazing in 1928, Francis and his sisters, Elizabeth and June, at the age of 84, were recognized as the oldest living triplets in the state of Idaho. The family lived on Upper Fords Creek through his early childhood. They moved to Weippe, then to Riverside near Orofino, then to Pierce, where he graduated from high school. He went into the U.S. Army in January 1951, and served in the Korean War for nine months. He recalled the difficult 16-day trip to Korea in an over-crowded ship approximately 800 feet long. He was in the Army for two years and finished as a corporal.
In 1958, Francis went to work at Potlatch Forests Inc. in Lewiston. He worked in the sawmill, at the pond, and on the slope until 1963, when he suffered a back injury. He then went to work for Naslund Disposal, where he worked for 13 years. His years of physical work ended when he had a serious injury to his hand and lost a finger. He had saved enough to invest in real estate in north central Idaho. Managing this real estate allowed him to become semi-retired. Francis was always kind-hearted and often befriended those with few or no friends.
Francis was preceded in death by his parents; a sister, June McCollum; and his brother, Marion Edmonson. Survivors include his sister, Elizabeth Kiblen; and many nieces, nephews and friends.
Special thanks to the staff at Brookdale Assisted Living for their care in Francis's final years and to his longtime friend, Elizabeth Gribble.
A celebration of Francis' life will be held at a later date.
Offer Condolences