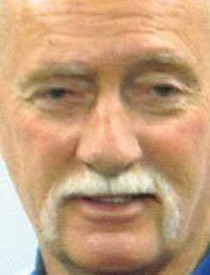 Terry Sodorff
7/4/1950 — 4/8/2019
Terry Sodorff passed away Monday, April 8, 2019. He was born July 4, 1950, the grandson of Mr. and Mrs. O. A. Trout. He was raised in Lewiston and attended Lewiston schools. He attended College Elementary, Jenifer Junior High and Lewiston High School, until joining the U.S. Army in October 1967.
Terry completed his G.E.D. in March 1968, while serving in the Army at Fort Ord, Calif. He volunteered to be deployed to Vietnam and was there from April 1969 until March 1970. He was then stationed at Fort Lewis, Wash., where he was honorably discharged in August 1970. He returned to Lewiston and went to work for the Camas Prairie Railroad from 1971 to 1983, when a severe heart attack forced him to retire at the young age of 33.
He met his forever wife in May 1977, and he and Cherryl Thornton were married on Sept. 23, 1978, in Lewiston. They enjoyed their vacations, whether it was cruising or flying to Mexico or the Bahamas. They also enjoyed their trips to Lake Tahoe and Las Vegas, where you could always find Terry at the blackjack table. It really didn't matter if he was just at home with Cherryl, they always had fun just being together and enjoyed spending time with each other. They also enjoyed driving their classic cars when the weather was nice, and showed one or two of them each year at Hot August Nights until poor health conditions prohibited him from this activity. Oh, how he loved his classic cars. He was especially appreciative of Cherryl for putting up with him and for all the good times together, and for being his favorite nurse.
In addition, he is survived by a son, Cory and wife Jennifer, who were always there in times of need and for the great times at the NAIA World Series with the grandsons (Joshua, Zachary and Michael), where they would eat everything in sight because Grandpa just happened to have a wallet full of money. In addition, life would not have been complete without his only granddaughter, Ashley. He loved all of his grandkids dearly and cherished and appreciated all the fun times they had together.
He enjoyed playing all kinds of sports and also enjoyed playing the guitar, hunting, fishing, camping, cutting firewood, riding four-wheelers, watching Raider football and car auctions, and anything else that had to do with sports and the outdoors. There came a time when his activities were very limited due to his health, and the doctors suggested golfing. That made him laugh, as he always said there was no way he would ever play "cow pasture pool." Finally, in 1991 he took up the sport he said he would never play and was lucky enough to get three holes-in-one at Bryden Canyon Golf Course.
He also found the true meaning of friendship in his golf partners, who he could always count on to be there if he ever needed anything. Thank you to golfing buddies Bob Rapp, Mike Hill, Tom Harvey and Doug Bennett.
Terry is survived by sisters Sue Barker, Donna (John) Daniel, Judy (Eric) Lundgren and Janet White; and numerous nieces and nephews.
He was preceded in death by his grandparents; a brother, Dennis; and a daughter, Tina.
He adored his four-legged buddies, KC, Sage and Ruby, who kept him company every day and never wavered in their loyalty to him.
He loved and appreciated all the fun times that he had with each and every one who came into his life.
He was a member of the Fraternal Order of the Eagles Aerie No. 631, lifetime member of Veterans of Foreign Wars Post 10043 and Disabled American Veterans Chapter 18, and a past longtime member of the Bryden Canyon Golf Course.
A special thank you to Dr. Daniel McIntosh of Lewiston and Dr. Gerhard Muelheim of Spokane Cardiology for giving Terry the extra years of happiness that all the other doctors said he would never have and were such a wonderful gift.
Cremation has taken place, and a memorial service will be held at 3 p.m. Saturday at Malcom's Brower-Wann Funeral Home in Lewiston.
In lieu of flowers, please make a donation to the Lewis Clark Animal Shelter, Veterans of Foreign Wars or the charity of your choice.
Service Information
Date & Time

Saturday, April 13, 3:00 PM

Location

Malcom's Brower-Wann Funeral Home
1711 18th Street
Lewiston, ID 83501

Get Directions
Condolences
Soni Hoisington Main
Cheri,
I was sorry to read of your husband's passing. You and your family are in my thoughts and prayers.
Soni Main
Sunday, April 14, 2019 11:12 AM
Offer Condolences