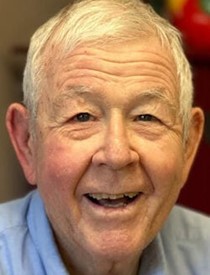 Terrin Dean Perrin
11/23/1944 — 8/2/2023
In loving memory of Terry Dean Perrin, age 78.
It is with heavy hearts that we announce the passing of our beloved husband, father, grandfather, great-grandfather and friend, Terry Dean Perrin, on Wednesday, Aug. 2, 2023, from Leukemia. He has been a pillar of the Orofino community nearly 50 years. His departure leaves an immense void that will be felt by all who had the privilege of knowing him.
Terry was born Nov. 23, 1944, Thanksgiving Day, in Gooding, Idaho. He and his two older siblings, James Robert (Bob) and Eloise Jean (Jeannie), were raised with love and kindness by their parents, James Russell and Elsie Eloise Bostrom Perrin, in Glenns Ferry, Idaho. His parents taught him the value of honesty, work ethic and frugality. He grew up playing marbles, running a paper route, playing football and basketball, working for local farmers and bird hunting. He graduated from Glenns Ferry High School in 1963 and two years later married his high school sweetheart, Suzette Williams, on May 22, 1965. A year later he was sealed to her in the Salt Lake City Temple of the Church of Jesus Christ of Latter-day Saints on May 27, 1966.
After two years at the College of Idaho in Caldwell studying biology, Terry transferred to Brigham Young University where he completed his bachelor's in agricultural economics. He then earned a master's degree from Utah State University in Marketing Education. Upon graduating, Terry accepted a teaching position at Northwest Community College in Powell, Wyo., where he taught marketing and business for six years.
An opportunity to become a State Farm Insurance agent presented itself in 1976. With seven children in tow, Terry and Suzette moved to Orofino, where they added seven more children to their family.
After laying his wife of 27 years to rest, who had succumbed to cancer, Terry married Susan Kentch on Nov. 20, 1993, in the Idaho Falls Temple of the Church of Jesus Christ of Latter-day Saints. From this union, two children were added to the family for a total of a "Sweet Sixteen."
Terry touched the lives of many as he gave of his time and resources serving on the local school board, with the Boy Scouts of America, and with his faith community in several capacities. When not working or volunteering in the community, Terry enjoyed fishing with friends and family, gardening, watching sports and spending time with his family. He counted his family as his most prized blessing. He commented often of the joy he felt seeing his children enjoy each other and watching his grandkids play.
As we mourn the loss of Terry, we also celebrate the profound impact he had on our lives. He leaves behind a legacy of love, work ethic, and selflessness that will continue to inspire and guide us. His memory will forever live on in our hearts and minds until we are united in the Resurrection.
Terry was preceded in death by his parents, his late wife, Suzette and his brother.
Survivors include his wife, Susan Perrin of Orofino; three sons, Scott (Tina) Perrin, of Cottonwood, Travis (Tami) and Dustin (Cherie) Perrin, both of Meridian, Idaho; 13 daughters: Tammy (Rich) Geddes, of Rexburg, Idaho, Darla (DeRay) Jones, of Soldotna, Alaska, Denise (Eric) Nelson and Tanya (Clint) Biesinger, both of Bountiful, Utah, Traci (Rod) Phippen and Tiffany (Brent) Hunter, both of Ammon, Idaho, Darcy (Joe) Flores, of Vernal, Utah, Sherie (Justin) Schmitt, of Roosevelt, Utah, Shonda (Adam) Robinson, of Parker, Colo., Teralyn (Brent)Thompson, of Lehi, Utah, Stephanie (Jeff) Baldridge, of Okinawa, Japan, Tandee (Tyler) Hicks, of Fredericksburg, Va., and Devonee (Blake) Christensen, of Richland; one adorable sister, Jeannie Nemeth, of Boise; 76 grandchildren and 10 great-grandchildren.
Visitation is scheduled from 10-10:45 a.m. PDT Friday, Aug. 11, at the Church of Jesus Christ of Latter-day Saints, 13610 Freemont Ave., Orofino. A funeral service to honor and remember Terry's life will follow at 11 a.m. PDT.
An additional viewing will take place from 11-11:45 a.m. MDT Saturday, Aug. 12, at the Church of Jesus Christ of Latter-day Saints, 874 Old Highway 30, Glenns Ferry, Idaho. Graveside will be at noon MDT at the Glenns Rest Cemetery in Glenns Ferry.
Malcom's Brower-Wann Funeral Home of Lewiston is in charge of the arrangements.
Service Information
Date & Time

Friday, August 11, 11:00 AM

Location

The Church of Jesus Christ of Latter-day Saints
13610 Freemont Avenue
Orofino, Idaho 83544

Get Directions
Offer Condolences