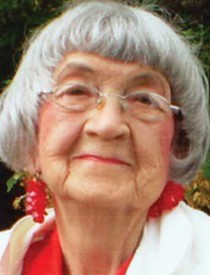 Telva Goffinet
9/13/1927 — 6/26/2018
Telva M. Goffinet passed away Tuesday, June 26, 2018, at Royal Plaza in Lewiston. She was 90.
Telva was born Sept. 13, 1927, in Lewiston. She married Eldon Goffinet, and they had two children.
She is survived by her sons, Rocky Goffinet and Ray Goffinet; grandson Russell Goffinet; four great-grandchildren; and two great-great-grandchildren. She was preceded in death by her husband.
In accordance with her wishes, no services will be held.
Condolences
David-n-Darlene Krepps
It was our pleasure to have met Telva Goffinet for a brief moment in time. She impressed us to be a very special human being. She welcomed us into her home with grace and charm in 2017. May she rest in the peace of her Lord, Jesus.
Wednesday, July 4, 2018 7:44 PM
Offer Condolences