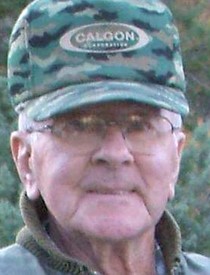 Teddy Fey
4/30/1932 — 9/1/2018
Teddy Gene Fey gained his angel wings en route to his eternal heavenly fishing hole on the morning of Saturday, Sept. 1, 2018, at the Idaho State Veterans Home in Lewiston.
Ted G. Fey was born the last of 10 children on April 30, 1932, in Cresbard, S.D., to Charles D. Fey and Susie A. Mason-Fey. Ted moved with family to Fix Ridge near Juliaetta at age 5. His first year of school was at Union School in Fix Ridge. The Feys moved to the last family home on Potlatch Creek in 1939. Ted then attended school at Kendrick, where he graduated from high school in 1950. He played on the varsity teams of basketball, baseball and football. "Probably the only award I remember was receiving what I believe was the first all-around athlete of the year given at KHS at graduation, and it probably was a last-minute idea as they never had a suitable medal and gave me a citizenship medal and a rain check. I never did get the medal, was still sort of proud."
While in high school, his first job after school was for Jack Mead at Juliaetta Lumber Molder. His next job was in the woods at Bovill for Homer Drury for one season. He was drafted into the U.S. Army in October 1952 and served in the artillery on a gun crew, later as cook and company baker. He was honorably discharged in October 1954 as a corporal. He worked in a stud mill in Redmond, Wash., after the Army. That's where he met and married Barbara Jean Lowe in October of 1954. They later divorced in June of 1972. They moved back home to the woods to work, and then he worked for Latah County Road Department as foreman and crew for 10 years.
Ted then worked 27 years for the Nez Perce County Road Department, spending most of this time as a foreman. He met his wife, Phyllis M. Crawford-Parsley, and they were married at Kendrick Methodist Church on May 4, 1973. During this period, he owned and operated Burt's Cafe for 10 years. He also found part-time work for Brocke and Sons in the warehouses. Ted and Phyllis were chosen citizens of the year by the grange in 1980. They also served as grand marshals of the Locust Blossom Festival in 2017.
"I began the best job in 1992 — retirement." Ted liked watching high school sports, baseball, basketball and football on television. He enjoyed outdoor activities of hunting, fishing, boating, four-wheeling and traveling in the camper and motor home. Ted and Phyllis enjoyed watching the grandkids grow up, their sports and other school activities. "Wasn't a churchgoer, but believed in treating everyone fairly and honestly, which is what it's all really all about."
Survivors include sister Vivian Daniels; son Jim Fey; daughters Cindi Fey (Brud Russell) and Helen (Dan) Trautman; stepsons Jeff (Margaret) Parsley and Tim (Charlotte) Parsley; as well as nine grandkids and nine great-grandkids.
He was preceded in death by his parents, Charlie and Susie Fey; wife Phyllis Fey; brothers Everett (Bud) Fey, Roy Fey and Harlan Fey; sisters Lola Augustine, Susie (Brib) Nickolas, Eva Rosenau, Nellie Heimgartner and Lois Fraser; and grandsons Tyler Fey and Jessie Fey.
A viewing of Ted Fey will take place from noon to 5 p.m. Friday at Malcom's Brower-Wann Funeral Home and Cremation. A graveside service will be held at 11 a.m. Saturday at Lewis-Clark Memorial Gardens. Donations may be made to the J-K Ambulance Fund in Kendrick.
Service Information
Date & Time

Saturday, September 8, 11:00 AM

Location

Lewis-Clark Memorial Gardens
3521 7th Street
Lewiston, Idaho 83501

Get Directions
Offer Condolences