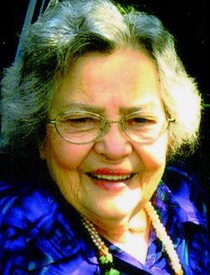 Talia Lynch
10/27/1921 — 9/4/2017
Talia Chacón Lynch passed away Monday, Sept. 4, 2017, at Royal Plaza Health and Rehabilitation in Lewiston, at age 95, of causes related to age.
Talia was born Oct. 27, 1921, in Elrosario, Naranjo, Costa Rica, to the late Abel and Maria Chacón.
Talia worked very hard when she was young, helping her daddy on their large ranch. She helped feed many horses, cows, mules and chickens, which she dearly loved.
She came to Clarkston in 1950 to help her sister and brother-in-law, Otto and Natalia Schneider. In 1954, she married John B. Lynch. The marriage ended in divorce. On Oct. 26, 1955, Talia received her U.S. citizenship.
Talia worked hard all of her years in Lewiston cleaning houses, law offices, working at St. Joseph Hospital in laundry and helping with the newborn babies. While doing all of these things, she still found time to baby-sit for people.
She always had a garden and seemed to have a natural green thumb for growing things and was an excellent cook. She often helped her daughter-in-law cook out the turkey bones after Thanksgiving to make soup stock, which had a special flavor because of her special blend of spices. She also loved helping make dill pickles and had a great recipe. Talia also loved to play rummy with anyone who would play with her.
Talia is survived by her sister, Natalia Heath of Clarkston, and brother, Harnon of Costa Rica. She also is survived by son Edward Lynch and wife Mariann; and daughter Alma Zollman and husband Tom. She also has a nephew, John Schneider, and wife Marcie of Mill Valley, Calif.; and niece Talia Schneider of Clarkston, who spent a lot of time helping her aunt when she needed it. The grandchildren surviving Talia are Joshua and Stacie Zollman and great-grandson, Owen, with a little brother due in December; Chad and Jackie Zollman and great-grandchildren Hailee and Hayden from Genesee; and Brian Zollman from Redmond, Ore. Talia also has stepgrandchildren Jerimy and wife Tamara Chase and Cindy and husband Aaron Patterson; stepgreat-grandchildren are Logan and Brooke Chase, Lizzy Hazen, Dawson Bedard and Troy, Brayden and Aubrey Patterson. They all called her Grandma Talia or Grandma Tia, and she loved each and every one of them a lot. Talia also is survived by numerous nieces, nephews, cousins and brother-in-law Maurice Hendrickson of Lethbridge, Alberta, Canada.
Preceding her in death were her infant brother, Guido, in Costa Rica; very special friends Howard and Mae Pew, who looked after her when she was alone; sisters-in-law Shirley Hendrickson of Lomond, Alberta, Canada, Yevon and Herby West of Lomond, and Joyce and Charlie Seiles of British Columbia.
Funeral services will be held Tuesday at All Saints Catholic Church in Lewiston, with rosary to begin at 10 a.m. and Mass to follow at 10:30 a.m. Burial will follow at Lewis-Clark Memorial Gardens, with lunch to follow back at the church.
Visitation will be from noon to 5 p.m. Monday at Malcom's Brower-Wann Funeral Home. Malcom's Brower-Wann Chapel is in charge of arrangements.
Service Information
Date & Time

Tuesday, September 12, 10:00 AM

Location

All Saints Catholic Church
3330 14th Street
Lewiston, ID 83501

Get Directions
Offer Condolences