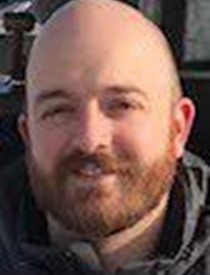 Steven R. Wessels II
12/23/1983 — 8/24/2019
Steven Ralph Wessels II tragically passed away Saturday, Aug. 24, 2019, in a boating accident on the Snake River.
Steve was born Dec. 29, 1983, to Steve and Gail Wessels. Steve and Gail were so proud to bring a little boy into the world. Steve was a mama's boy from the day he was born; he and his mom were inseparable. They later welcomed Steve's sister, Kacy, in 1988 and their beautiful family was complete.
Steve was a loving and kind person from the moment he could talk. Everyone always talked about what a sweet boy Steve was. He loved trips with his family growing up. He especially loved going out on the boat; he always loved being in the water. He also loved the snowmobile trips to Dixie with his family and close family friends. There are endless stories from those trips that everyone will hold dearly.
Steve attended All Saints Catholic Church, where he gained lifelong friends. He also attended Sacajawea Junior High and graduated from Lewiston High School. Steve attended Lewis-Clark State College for a short time while he worked at Mac's Cycle.
Steve had a passion for burling and became champion because of his quick feet and ability to read his opponents. He also played football throughout high school and loved his team and coaches.
Steve had many stories. He always had a story about everyone he met and shared a camaraderie with everyone he knew. His friends meant so much to him and most of his friends became his family; even if they hadn't spoken for years, he would still have that warmth and ability to pick up right where he left off. He had many nicknames from many friends, some of them we can't share, but he will forever be Scuba Steve, Skippy, Spud Jr., June Pie, etc.
Steve worked for Mac's Cycle throughout high school and later worked at Guy's Outdoor and Bruneel Tire. Steve was able to join the family business at TISCO shortly before they sold to Lake City Trucks. Steve loved working alongside his grandpa, Ralph, and his dad at TISCO. This eventually led them to purchase Mac's Cycle, where Steve poured his heart and soul into his business. He loved his customers and his Mac's Cycle family.
In 2002, shortly after Steve graduated, he met his best friend and soulmate, Jenna Boyer. They had many adventures together and were inseparable from the moment they met. Steve and Jenna were married June 21, 2008. They had many trips together and lived their lives together in one big adventure.
Steve and Jenna welcomed their beautiful little girl on April 20, 2012. Macee was the light of Steve's life. He was so proud of her and bragged about her every chance he got. You could see the love he had for her on every inch of his face. He would just light up every time he saw her or talked about her.
Their favorite memories together were their long camping trips on the North Fork of the Clearwater River. Steve would always make sure he made time to go there and it was his place to find peace. He taught Jenna and Macee how to fish the river, and they loved their time that they got to spend there. They also loved spending time on the boat on the Snake River and their many family dinners and time spent with friends.
Steve also loved his crossfit family and being able to spend the last few years really bonding with his sister, Kacy, and his brother-in-law, Adam. He looked forward to going whenever he had a free day. He also loved snowmobiling, snowbiking, fishing and doing anything he could outdoors with his friends and family.
Steve recently gained a huge passion for racing jet boats. He loved the brotherhood of it and the new friends he gained racing. He was a navigator and felt so honored in the trust he was given on the boat. He truly lived life to its fullest, doing exactly what he loved. The Wessels family would just ask that you keep the other racers and jet boat community in your prayers as they are suffering through this incredible tragedy as well.
Steve is survived by his wife, Jenna Wessels; daughter Macee; parents Steve and Gail Wessels; sister and brother-in-law Kacy and Adam Myklebust; grandfather Ralph Wessels and stepgrandmother Marva Wessels. Steve is also survived by many cousins, aunts, uncles, extended family and friends.
Steve was preceded in death by his grandparents, Elizabeth Wessels, Ralph and Mary Comstock, Ralph Comstock Jr.; brother-in-law Zachary Brunes; as well as his great-grandparents.
A viewing will be held from 3-5 p.m. today at Malcom's Brower-Wann Funeral, 1711 18th St., Lewiston. A funeral service will be held for Steve at 11 a.m. Friday at Valley Christian Center and a reception will follow at the Red Lion Seaport Room.
Service Information
Date & Time

Friday, August 30, 12:00 PM

Location

Echo Hills Church
3215 Echo Hills Drive
Lewiston, ID 83501

Get Directions

Additional Details

Viewing will be held Wednesday, August 28, 2019 from 3:00 - 5:00 p.m. at Malcom's Brower-Wann Funeral Home.
Condolences
Duane & Charlotte Ash and Lewis-Clark Riders
From Duane Ash: I knew Steve personally and know him to have been a good man and a hard worker. I will miss him. We all send our deepest condolences to his family. Please let us know if there's anything we can do to help you.
Thursday, August 29, 2019 1:28 PM
Gary and sally browning
Our thoughts and prayers are with you . Thank goodness for all the wonderful memories you will all have. Jenna and macee know that you will be in our prayers and hope you will gain strength in knowing we care. God bless you all Gary and Sally
Thursday, August 29, 2019 11:41 AM
Offer Condolences