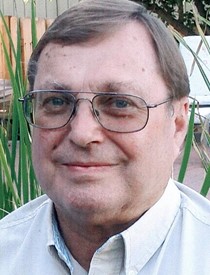 Stephen Lindsley
1/29/1946 — 5/25/2021
On Tuesday, May 25, 2021, our beloved husband, father, brother and grandfather, Stephen E. Lindsley, passed away at St. Joseph Regional Medical Center of natural causes.
Stephen E. Lindsley was born Jan. 29, 1946, in Hamilton, Ohio, to Wilber and Lola Inloes Lindsley. Steve attended elementary school in Oconto Falls, Wis. At the age of 14, his father passed away, and the family moved to Lacrosse, Kan., where he gained four new siblings and a new baby sister was added a bit later.
After graduating from high school, Steve attended Fort Hays State College where he earned his undergraduate degree. He married Carol Herbel in 1968 and joined the U.S. Army as an officer in 1970. While stationed in Germany, Steve and Carol added two children to their family, Rebecca and Eric. When the family returned to the states, Steve again enrolled at Fort Hays State College and completed his master's degree in clinical psychology.
With his master's in hand, Steve and his family moved to Lewiston where he began his career with the Idaho Department of Health and Welfare, Adult and Children's Mental Health Services. While working with the Adult Mental Health Program, Steve became responsible for completing court-ordered assessments of adults charged with sex offences. As only Steve could do, he became determined to do the job well. He made it his goal to become educated and kept up with literature to ensure he always provided the best assessments and treatment. During his career with the state, Steve became involved with a case that became national news. When the TV news program, "The MacNeil/Lehrer Report," came to interview him, and his interview was published in the Seattle Times and New York Times, his co-workers had a great time teasing him about being a celebrity. This career path also led him to open his own private practice at Valley Treatment Specialties, in addition to his job with the state.
After his first marriage ended, Steve later married Sandy Mundell. Becca and Eric lived with their dad, attended and graduated from Lewiston High School. After they finished high school, Steve and Sandy divorced.
In 2003, Steve met Lisa Deyoe at work. After their first date cruising at the 2004 Hot August Nights in his newly restored 1977 Corvette, they would go on to have 17 wonderful years together.
Steve was a bit of a Renaissance man. He had many interests and hobbies. He sought new challenges and worked until he had perfected them. Deciding he wanted to learn to sail, he purchased a sailboat, read up on it and taught himself to sail.
Steve loved to work in his wood shop. He built many beautiful pieces of furniture including an oak bed frame and a beautiful oak pendulum wall clock. He loved restoring classic sports cars and had many Datsun 240Zs, Corvettes and MGs. He took on the total restoration of a 1963 Chevy Impala before his health no longer permitted him to complete the task.
In 2014, Steve was paralyzed from a cervical spinal cord abscess. Initially paralyzed from the neck down, his determination allowed him to regain some use of his arms. While no longer able to work in his wood shop or auto shop, Steve continued to find new hobbies to keep him busy. He built model ships, learned to clean and repair antique mantel clocks, intensified his coin collecting and started collecting Schrade pocket knives until he had multiple complete sets, which he displayed in his home office. Steve was enthusiastic about target shooting. While no longer able to handle a rifle, he became quite accomplished with his 22-gauge target pistols. With the help of his neighbor friend Steve, the two Steves became weekly regulars at the Diamondback Shooting Range. Eventually Steve was even able to use a small lathe and started making wooden pens and letter openers for family and friends.
Steve had a wicked sense of humor. He loved to play practical jokes at work and on his grandchildren. His favorite was a demonstration that would end up with the child (or adult if he could catch them) being splashed with water to the face. He loved classic rock 'n' roll and could often be found in his garage workshop with music blaring.
Steve is survived by his wife, Lisa, and his children Becca Alcorn (Reg) and Eric (Edelyn) Lindsley. He is also survived by his bonus children Ryan (Abbi) Deyoe and Sarah (Travus) Best, and grandchildren Kristina (Eric), Andrew, Savannah, Jake, Jackie, Abby, Ty, Gretchen, Deegan, Silas and Lucy as well as one great-granddaughter, Kaylin.
In addition to his wife and children, Steve is survived by his siblings Wren, Michael, Robin, Susan, Paul, Ann, Mimi and Connie. Steve goes home to join his parents and grandparents, who preceded him in death.
A memorial service and luncheon will be held at 1 p.m. Monday, May 31 at the Hells Canyon Grand Hotel, (formerly the Red Lion Hotel) in Port 4. The service will also be livestreamed on Facebook at facebook.com/michael.ide. The service will also be available through Zoom at https://us02web.zoom.us/i/86427824281?pwd=UU5BNGh2VllPb2NNbCtBclg2TnVNQT09, meeting ID: 864 2782 4281, passcode: Steve.
The family would like to thank the many friends and neighbors who touched Steve's life and gave him the opportunity to live his life to the fullest. A very special thanks to Linda Solar, Steve's long-term caregiver who became so much more than just someone who saw to his needs. She became a true friend, and his life was enriched with each day she spent with him.
Service Information
Date & Time

Monday, May 31, 1:00 PM

Location

Hells Canyon Grand Hotel
621 21st Street
Lewiston, Idaho 83501

Get Directions
Offer Condolences