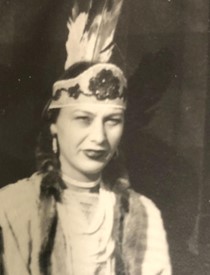 Shirley Rickman
7/8/1927 — 11/7/2019
Shirley Lois Cloud-Rickman passed away peacefully at the age of 92 on Thursday, Nov. 7, 2019, at Palouse Hills Memory Care, in Moscow. She fought courageously while inspiring her loved ones as she battled with dementia.
She was born July 8, 1927, at King County Hospital in Seattle to her mother, Elsie Cloud, and father, Sidney Henderson. She married the love of her life, Thomas E. Rickman I, on Feb. 4, 1963, in Asotin. The couple lived in Lapwai on the Nez Perce Reservation and raised three children, Connie Guillory, Thomas and Gina Rickman.
Shirley was baptized March 25, 1928, at the First Presbyterian Church of Spalding, Idaho. The pastor was the Rev. Elias J. Pond.
She is survived by her two daughters, Connie Guillory and Gina Rickman; her grandchildren, Ricky and Tia Hernandez, Chantel and James Greene, Thomas B. Rickman III, Justin and Sonny Guillory, Raphael and Gloria Guillory, Chrisjon and Veneice Lacy; and many wonderful great-grandchildren.
She was preceded in death by her husband, Thomas E. Rickman; mother Elsie Cloud; father Sidney Henderson; grandfather Benjamin H. Cloud; grandmother Katherine Dickson-Cloud; and son Thomas M. Rickman II.
Shirley was a beautiful, fun-loving and incredibly caring woman, who sacrificed and provided all she had for her family. She worked for the Nez Perce Tribe up to her late 70s, and served on the Nez Perce Tribal Housing Authority from 1994 to 1995. She was appointed to the Nez Perce Tribal Executive Committee and served from 1960 to 1962. Outside of work, she and husband Tom also loved to pass their time by going to the Clearwater River Casino to gamble, and even won a drawing for a pair of Jeeps that they were very proud of.
Later in life, she and her beloved husband devoted their time, blood, sweat and tears to the Presbyterian Church in Spalding, never accepting monetary pay for work, and always expressing that this work was done for the Lord. This was the kind of couple they were.
Shirley loved taking in animals, especially their two Chihuahuas, Kuts Kuts and No No, who kept them company, and a kitty named Kitty. She loved attending sports functions for the Lapwai Wildcats, and traveled to many tournaments to watch her children and grandchildren play. Her favorite sport was basketball and she enjoyed going to state championships in Boise.
She was a very strong, organized, proud Nez Perce woman, who spoke fluent Nez Perce language and learned English through grade school. The strengths she had were immeasurable, and the care she showed for her family and community model who she was.
Her funny, silly jokes and kind heart will be missed. She left a wonderful legacy for her grandchildren to follow, and the impact she made was that of a strong and loving woman.
A special thank you to the Nimiipuu Health employees, Nez Perce Tribal Programs, Palouse Hills Memory Care, Malcom's Brower-Wann Funeral Home and Golden Dragon.
Please join us for memorial services being held at 6 p.m. Monday and funeral services at 10 a.m. Tuesday, both at the Pi Nee Waus in Lapwai. Burial and dinner will follow the services.
Service Information
Date & Time

Tuesday, November 12, 10:00 AM

Location

Pi-Nee-Waus Community Center
99 Agency Rd.
Lapwai, ID 83540

Get Directions
Offer Condolences