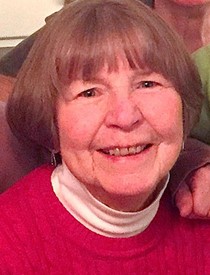 Shirley Miller
10/31/1937 — 12/15/2020
Shirley Mae (Halleen) Miller, of Lewiston, died peacefully Tuesday, Dec. 15, 2020, with her family at bedside after a short hospitalization.
Shirley was born in the Lewiston Orchards at the family home Oct. 31, 1937, to Millard and Goldie Halleen, the youngest of five children. She loved that her birthday was on Halloween. Her father died when she was 7; Goldie later married Jim DeVault, who treated Shirley as his own daughter.
Shirley graduated from Lewiston High School in 1955. In 1957, she married John Eimers at First Methodist Church (now the condemned Civic Theatre building). They lived in Caldwell while John attended college. After graduating, John was hired as a teacher and football coach for Parma High School. In 1962, their daughter Marcia was born.
When Marcia was a baby, Shirley and John visited family in Sitka, Alaska. Shirley's brothers had left the pulp mill in Lewiston to work at the pulp mill in Sitka. Her parents had also moved there. They fell in love with Alaska and joined the rest of the family in 1965. Their son, Don John, was born the following year. Sitka was a very social place at that time. Many families gathered at the Moose Lodge, and at mill picnics and parties.
Shirley and John later divorced. Shirley married a man who was stationed on the Coast Guard cutter in Sitka. When he was transferred in the CG, she moved to Valdez, Alaska, Kennewick and lastly to Honolulu, Hawaii. That is when Shirley began her love for Hawaii. After leaving the CG, Shirley and her husband returned to Sitka.
After her second divorce, Shirley wanted to move to Hawaii. But before she could finalize her plan, she met a fellow Idahoan, George Miller, whom she married in 1987. Shirley and George enjoyed socializing on the weekends, dancing and playing darts. Later they became snowbirds, living in Casa Grande, Ariz., with several friends from Sitka, and made many more special friends there. In 1999, they left Alaska for good and summered in Lewiston. Her daughter and son-in-law Bill Arnold also left Alaska and moved to Lewiston, with her son following the next year. A few years later, Shirley and George gave up the warm winters and lived year-round in Lewiston. She was not a fan of the cold and missed Arizona.
Shirley was cremated and her cremains will be taken to Hawaii with her daughter and son-in-law, to be forever warm. Shirley was one of a kind. She had a subtle sense of humor and always spoke her mind. All who knew Shirley have fond memories and will miss her greatly.
Shirley is survived by her husband, George Miller, of Lewiston; her children, Marcia Eimers Arnold (spouse Bill Arnold) and Don John Eimers, of Lewiston; her sister, Charlotte Halleen Worden, of Lewiston; her brother, Lowell Halleen (spouse Beverly Halleen), of Vancouver, Wash.; and her many nephews and nieces. She is also survived by her two fur grandbabies, Biorka and Lucy.
Her parents, Millard and Goldie Halleen; her stepfather, Jim DeVault; her brother, Don Halleen; and her sister, Darlene Halleen, preceded Shirley in death.
Offer Condolences