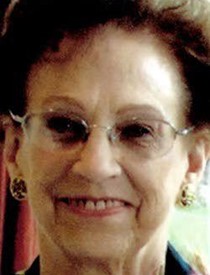 Shirley Hunter
11/9/1936 — 4/29/2019
After multiple battles against cancer, Shirley E. Hunter was called home to our loving Lord on April 29, 2019.
Shirley was born Nov. 9, 1936, in Orofino to Charles and Pearl (Tummelson) Owen. The family was living in Peck, and she was the youngest of four children. Charles was working for the U.S. Forest Service when Shirley started first grade in Hayden Lake, Idaho, and then finished the year at Peck. After school was out, the family then moved to Grangeville, where Shirley was active in theater, cheer and as a drum majorette. She graduated valedictorian from high school in 1954 and, as senior class president, organized many class reunions during Grangeville Border Days.
Shirley married Dallas H. Smith in July 1954. She worked at a cafe on campus at the University of Idaho while Dallas went to college there for a year. The next year, he went to school in Pocatello, followed by flight school in Texas and Alabama before going on active duty with the Army. This brought more moves to various Army posts. They had five daughters, Christine, Deanna, Annette Lynn (all born in Grangeville), Bonnie (Fort Benning, Ga.) and Elaine (Fort Belvoir, Va.).
While living in Alabama, Shirley took ceramic classes and found an outlet for her artistic side. She was a Girl Scout Leader for 25 years, and her girls were all in scouts growing up. With all the moving, it gave them something to belong to wherever they went. Shirley and the girls moved for the final time to Lewiston in 1971. The couple divorced in 1976 after Dallas' third tour in Vietnam.
Shirley went back to school at Lewis-Clark State College to get her degree in mid-management. While still a student, she started working for the college as a teacher's aide. After receiving her degree, she began teaching in the vocational business department for LCSC. While working for LCSC, she was able to take students to competitions across the country in places such as Atlanta, New Orleans, California and southern Idaho.
After being set up on a blind date by her daughter and friend, she married the love of her life, Jac Garlinghouse, in 1982, and added his two daughters, Staci and Jill, to the family. Jac took the family on an annual camping trip to Dixie at the Halfway-House Campground. He delighted in cooking special recipes for his girls like "Feet and Beaks" and frying up the fresh catches of the day. They even dreamed of building a home in Dixie large enough to hold their blended family. Sadly, Shirley lost the love of her life to lung cancer in 1988.
Shirley married Vernon Douglas Hunter in 1990 and then retired from teaching. Together, they traveled to California, Canada and London. Following his death to bone cancer in 1993, she returned to teaching at LCSC in the Adult Basic Education Department, retiring in 2004. She always delighted in seeing former students everywhere she went around town.
Shirley enjoyed traveling to 41 states, Canada and England. She was the ultimate collector of dolls and served as president of the Lewis-Clark Doll Club for several years. She also collected jigsaw puzzles, books, antique compacts, salt and pepper shakers, blue glass baskets and Idaho magnets. Shirley always had cats to keep her company and was an avid crossword puzzler, cribbage player and family genealogist. She enjoyed attending the Springston family Peck Reunion, where she would connect with relatives and exchange family stories. Her greatest passion was her family.
She is survived by her brother and his wife, Lee and Roberta Owens of Lewiston; her daughters and their husbands, Chris and Mike Miller, De and Monte (Pete) Ruchert, Bonnie and Gregg MacMillan, all of Lewiston, Annette Lynn and Del Bowlby of Fresno, Calif., and Elaine and Mike Marriott of Rochester, N.H; her stepdaughters, Staci and Cleve Branch of Clarkia and Jill Lyons of Tennessee. Also surviving are 17 grandchildren and 13 great-grandchildren.
She was preceded in death by her parents; her husbands Jac and Doug; her sister Patricia and her brother Harry.
Memorial donations may be given in her name to LC Animal Shelter, Boys and Girls Club, Lewiston Civic Theatre, LCSC and Orchards Community Church.
A memorial service will be held at 11 a.m. on Tuesday, May 7, 2019, at Orchards Community Church.
Service Information
Date & Time

Tuesday, May 7, 11:00 AM

Location

Orchards Community Church
822 Bryden Avenue
Lewiston, Idaho 83501

Get Directions
Condolences
Mary Minton
Thinking about you today especially, Shirley. Thanksgiving... so many, many holidays spent together. I will be with your family today. A precious legacy of your generosity...
Thursday, November 28, 2019 12:52 PM
Offer Condolences