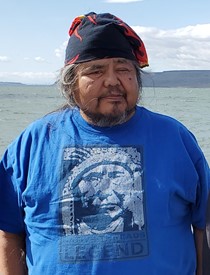 Sanford Shelton James Jr.
12/26/1954 — 3/26/2022
Sanford Shelton "San-Man" James Jr. passed away on March 26, 2022 and was reunited with his sons at the greatest river of all. He was born to Margaret Jackson and Sanford James Sr. on December 26, 1954. Sanford was also known as "Dancing Bear" and "Tim." He was a proud member of the Nez Perce Tribe.
Sanford's world revolved around fishing and hunting. He was a firm believer of the treaty rights. He was a proud Nimiipuu fisherman who fished the Zone 6 and the Tributaries of the Nez Perce. Hunted and gathered in all the usual and accustom places. He was a spiritual, quiet, humble big-hearted man that made the best smoked salmon and jerky.

He graduated Lewiston High School in 1974. He soon fell in love with Daisy "Jennie" Ford and followed her to New Mexico and enrolled into the Navajo Community College for computers. Sanford and Jennie then moved back to the Pacific Northwest and started having a family. He was blessed when he met Jennie because she came with a daughter Samantha Ford. Later, they had 3 more children, Lilly James, Jonas James, and Sanford James III. Sanford and Jennie later separated.
Sanford worked for the Potlatch Mill and other various construction jobs through Nez Perce Tribe's TERO Program. He finally settled in and was employed by the Nez Perce Tribe Maintenance Department permanently since the late 1990's. He took pride in his work and was very dedicated to his work.
Sanford is survived by his sister Deborah Lynn Kramer and daughters Lilly James and Lillian Penney; and many nieces, nephew, and grandchildren. His grandchildren were his joy, Josephine Ford, Isaac Ford, Aisha Ford, Tanu Buck, Quillius James, Kolina James, Jesse James, Penastacio Quintana, Dohani and Nizhoni Welch, and Amias Penney.
Sanford is preceded in death by his parents and sons; sisters Rita Delorme, Sandra James, and Elvira Crowshoe; his brothers Vuriel Broncheau and Douglas Kramer; granddaughter Nevelle James.
Services will be held at 7 p.m. Wednesday, March 30, 2022 at the Sacred Heart Church in Lapwai, Idaho with a Rosary and Memorial Service. Funeral Services will be at 10 am on Thursday, March 31, 2022. Burial will be at the Spaulding Cemetery. Dinner to follow burial at the Sacred Church Parish Hall.
Service Information
Date & Time

Thursday, March 31, 10:00 AM

Location

Sacred Heart Church
205 E Birch Avenue
Lapwai, ID 83540

Get Directions
Offer Condolences