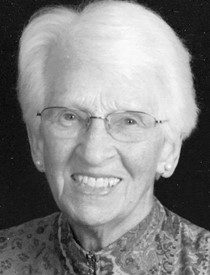 Sally Zimmerer
11/6/1928 — 5/8/2020
Our mother, grandmother, sister, aunt and dear friend, Sally Lou Bower Zimmerer, passed away peacefully Friday, May 8, 2020, at her home in Lewiston, surrounded by her family.
Sally was born Nov. 6, 1928, in Blain, Pa., the daughter of the late L. Miles Bower and Sarah (Rishel) Bower. When Sally was 3, she fell through and underneath the ice on a stream near the family's farmhouse. She was saved by the quick actions of her mother, Sarah, who pulled her to safety, allowing Sally's amazing journey to continue for another 90 years. Sally started her education at Red Hill School, a one-room country schoolhouse. Along with her sisters, Sally was a starting member of the Blain High School girls' basketball team that won the season championship in 1945 and 1946. After high school, Sally attended Thompson Business College in Harrisburg, Pa., where she graduated with honors with a business degree.
On Dec. 23, 1950, Sally married Willis Henry Zimmerer. They first lived in Gettysburg, Pa., where they had four children, before moving to Glen Rock, Pa., in 1960. Sally taught kindergarten at Zion Lutheran Church in Glen Rock for several years, and then changed careers to be the secretary to the head of the commercial loan department of CoreStates Bank (now Wells Fargo) in York, Pa. She retired from CoreStates in 1994 after 24 years. In 2013, Sally decided to sell her home of 53 years in Glen Rock, and move to Lewiston to live near her daughter, Molly Zimmerer.
Over the years, Sally volunteered for many community organizations, including the Arthur Hufnagel Public Library of Glen Rock, Nixon Park (York County Parks), Southern York County Pantry, Meals on Wheels, and the Social Ministry Committee and Samaritan Sewing Group at Zion Lutheran Church. Sally was a longtime member of Zion Lutheran Church in Glen Rock. She was also an avid walker and active member of the York Hiking Club of PA for many years. In Lewiston, Sally was a member of the Congregational Presbyterian Church. She sewed with the quilters at Trinity Lutheran Church, and she was a Pink Lady at St. Joseph Regional Medical Center.
Sally enjoyed traveling and was fortunate to visit many countries of the world, as well as much of the United States. But her favorite place to be was the family farm in Perry County, Pa., a place of love and hope for four generations.
Survivors include her children, Mark B. Zimmerer (Gina), of Nashville, Ind., Peter J. Zimmerer (Rita), of Long Grove, Ill., Molly A. Zimmerer (Bob Blakey), of Lewiston, Joel W. Zimmerer (Annie Hatch), of Cheyenne, Wyo.; grandchildren Sarah Blakey John (Kevin), Janell Zimmerer, Rob Blakey, Lorenzo Zimmerer and Eliza Zimmerer; four of her sisters, Barbara B. Bingaman, of State College, Pa., Nancy B. Brown, of Clarksville, Md., Mileen B. Altier, of Doylestown, Pa., and Kathryn B. Watto, of Cresco, Pa.; and her exchange student daughter, Paivi P. Louvel, of Lalinde, France.
Sally was preceded in death by her husband, Willis H. Zimmerer (Oct. 20, 1994); sister Jean B. Alton; and brothers Clark W. Bower and Benjamin B. Bower.
Per Sally's request, there will be no viewing. She will be cremated, and her ashes will be interred at the Chestnut Hill Cemetery in Glen Rock, Pa., next to her husband, Willis, with a private family service at a later date. In lieu of flowers, memorials in Sally's name may be made to Lewiston City Library (Idaho) or to the Arthur Hufnagel Public Library of Glen Rock (Pa).
Condolences
Susan Dewey
I knew Sally for about 20 years as we worked together with the Southern York County Pantry. She was such a sweet, generous, and thoughtful woman. I am sure she will be dearly missed by many, but heaven is even more joyful now.
Friday, June 19, 2020 8:10 PM
The Franklin Family
We were so sorry to hear of Sally's brief illness and passing. We got to know Sally when she moved to Lewiston to be closer to Molly and family and she started attending our church. She was such a joy to know and always took an interest in the lives of our children. We will miss her quick wit and bright smile. She was a Godly example of commitment to family and service.
Monday, June 8, 2020 9:43 PM
Thomas Stoltz
To the Zimmerer Family
My deepest sympathy and condolences on your loss.
Sally was the best! She had a great life and family to follow in her footsteps.
Thursday, June 4, 2020 2:31 PM
Darrell Griffiths
Sally was a very good friend of my late aunt, Betty Brown, and sorely missed when she moved to Idaho. She was a lovely person to have known.
Tuesday, May 26, 2020 10:34 AM
Rita Buschman
So sorry for the loss of your mother,grandmother and sister. I live near Glen Rock and would see Sally occasionally. I was also a volunteer at Nixon Park.
It was always a joy to see her and spend a few moments together. She was always so pleasant, helpful, and kind. We need more people like her in this world.
Tuesday, May 19, 2020 9:56 AM
Dot Quackenbush
I met Sally in Glen Rock. We helped with the SYCPantry, a bond we shared as to the need of helping and feeding many. I enjoyed our friendship. Sally was indeed a beautiful lady.
My thoughts and prayers I offer family and friends.
Tuesday, May 19, 2020 8:39 AM
Jim and Shannon Bennett
Shannon and I had the great privilege to know Sally and to spend many an afternoon with her at Molly and Bob's house barbecuing, telling stories and laughing. She was a wise and lovely lady. We will miss her greatly and send our love to her family.
Tuesday, May 19, 2020 7:52 AM
Pastor Ed Robbins
Dear Family of Sally:
What a delightful human being, woman, and parishioner was Sally! I knew her in my call to Zion Lutheran, Glen Rock, from December of 2003 through August 2016. I remember her smile, her verbal ability, her capacity to relate to people, her dedication to the Quilters and its purpose, her work on the Social Ministry Committee, and I remember the time she gave strong support and encouragement to my initiating a feeding ministry at Zion in the face of a local community hunger need that came to my attention and which I shared with Sally. I also recall the wisdom and good deliberation she manifested as she came to her decision as to when to move from her home in Hayward Heights to travel west to be with Molly - a sensitive, thoughtful, process on her part, and when she made the move she was delighted to be doing so knowing that while she would miss all whom she loved in this part of the world that hovered around Glen Rock, she would know a joy in her familial relatedness and the new friendships she would make.
Monday, May 18, 2020 12:40 PM
Barbara Robbins
I volunteered with Sally at the hospital, she was a joy to be around, I also live in one of the condos just above where she lived and we would see each other often at the store. Prayers & thoughts are with the family. Always remember the good times BarbI
Monday, May 18, 2020 12:37 PM
Dick and Barbara Riggs
We just think that Sally was such a nice, pleasant person. Barbara said when Sally would help her in the kitchen, it was fun. In our 3 days a week exercise which started a 9a.m., I was there by 10 of 15 minutes to 9, and Sally was there to greet me with a big smile and good morning greeting. I talked to her about Pennsylvania a couple times. Sally also brought Donna Harris each time because Donna can't see well enough to drive. We will miss seeing her. May she rest in peace. Our thought and prayers are with her family.
Monday, May 18, 2020 11:49 AM
Offer Condolences