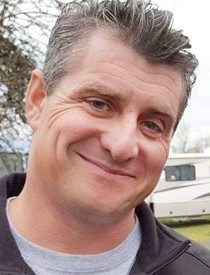 Ryan Lund
9/25/2021 — 9/21/2021
Ryan Eugene Lund, 42, of Lewiston, died Tuesday, Sept. 21, 2021, at St. Joseph Regional Medical Center in Lewiston.
He was born Jan. 18, 1979, in Boise to Lehi Lund and Betty Boulting (O'Bryan). Ryan was mentored by his father in diesel mechanics and attended Borah High School in Boise. He worked at Swift Transportation from July 1998 to September 2021. Ryan married Jonnie K. Bullis on June 20, 1998, in Smiths Ferry, Idaho.
Ryan loved to hunt with his family and provide. He enjoyed backpacking and taking anyone who had never gone. He loved to show the beauty and awe of the great outdoors. Ryan had a love for cooking and serving those around him.
He was a member of New Bridges Community Church and helped to build the church while it was in the process of moving to Eighth Street. There he was a part of Crash Team and Children's Ministry.
Ryan is survived by wife Jonnie Lund; sons Cooper Lund and Jackson (fiancée Madison Vigil) Lund; mother Betty Boulting; brother Michael Lund; sister Tonya Severns; grandmother Maryann Holcomb; sister and brother-in-law Karlene and Eric Reel; niece Tarren, nephew Trent, niece Caite; mother- and father-in-law, Deanna Hart and George Kidder; aunt and uncle Debbie and Clark Gillette; uncle and aunt Roger and Sue Mitchell; cousins Mathew and Mellisa Mitchell; and many nieces and nephews. He was preceded in death by his dad, Lehi Lund.
The funeral is set for 11 a.m. Monday at River City Church, Lewiston, with Brad Bramlet officiating.
You may sign the online guestbook at malcomsfuneralhome.com.
Service Information
Date & Time

Monday, September 27, 11:00 AM

Location

River City Church
2102 8th Street
Lewiston, Idaho 83501

Get Directions
Condolences
Susan Smith
Jonni, Cooper and Jackson I just wanted to send you a little note and tell you how sorry I am to hear about this loss. My heart is breaking for you. Praying the Holy Spirit sends the Comfort only He can bring. May you your precious memories bring you comfort and I pray each day your pain is turned to Joy in remembrance. Love and Prayers. Susan Smith
Monday, September 27, 2021 7:59 PM
Mike & Raina Overberg
Jonnie, Cooper & Jackson,
We are praying for peace, comfort and wonderful memories of Ryan for you all to cherish forever. Ryan really was a wonderful person with a great sense of humor. He was friendly, kind, giving, and yes, a faithful servant. Jonnie, we very much enjoyed hanging out and sharing stories at home group many years ago. Please know our family is thinking and praying for you all! Sending love and hugs.
Monday, September 27, 2021 5:41 PM
Jeff and Jan Chapman
Jonni, Ryan, and Jackson there are no words I can says or pretend I know how u feel. Just wanted to let you know we're here if u need us. Ryan was someone every time we seen him he brought a smile to our face. What a special guy. We're so sorry for you're loss, and u are in our prayers. He loved u guys so much💔
Sunday, September 26, 2021 8:13 PM
Offer Condolences