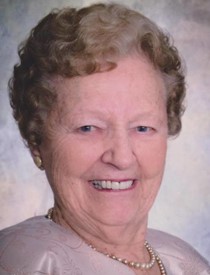 Ruth Allen
4/1/1916 — 8/19/2018
Ruth Mary Albin Allen was born April 1, 1916, in Philadelphia, to William Albin and Margaret Crowthers Albin. She was the eighth of 12 children. She passed away Sunday, Aug. 19, 2018, at the age of 102 years young.
In 1922, Ruth traveled west with her family from their home in Maryland, stopping along the way in Rosebud and Wanblee in South Dakota. Her mom passed away in 1932 while in Wanblee. She then continued west with her dad and three younger siblings to Vancouver, Wash., finally settling at the Bonneville Dam, where she and her dad built one-room homes for the dam workers to rent. One of the workers was George Allen from Cuprum, Idaho, whom she met and later married on Dec. 24, 1935, in Portland, Ore. They were married for 63 years prior to his passing.
She and George were blessed with two children: Barbara, born March 11, 1937, at Camas, Wash.; and George Jr., born Aug. 26, 1943, at Portland.
They were living in the Portland area while George worked as a supervisor, building the Liberty ships during the war. Ruth was even asked to christen one of the ships with a magnum of champagne. After George Jr. was born, the family moved to Yakima, then Lewiston, where she has lived for the last 68 years. Those years have been full of wonderful adventures.
She was an amazing woman, walking side by side with George as they hiked to the top of every mountain. She enjoyed all outdoor activities: hunting, fishing, camping, ATV rides, rock hounding and working their mine near Burgdorf, Idaho. She was an excellent marksman, bagging many deer, elk and one Canadian moose. She enjoyed traveling with both the Airstream and square dance clubs, and ventured to Calgary for a square dance jamboree.
She loved spending time with her family, and visited her daughter and son-in-law in Alaska many times. She spent many weekends playing with her grandkids, great-grandkids and great-great-grandkids.
She enjoyed hosting and traveling to family reunions, including a memorable trip to Pennsylvania and Washington, D.C., with her family. Her 90th, 95th and 100th birthdays were perfect opportunities to have a party with her family and friends.
A favorite pastime was playing pinochle at the local senior centers, and she often hosted card parties in her home. She loved spending holidays around the card table playing cards with her family.
She was a beautiful, vivacious lady who had a smile and a laugh for everyone. She made friends easily. She will be missed by all who knew her.
We want to thank Dr. Fisher for the many years of caring for her, and the staff at Royal Plaza for making her feel right at home.
She is survived by her daughter, Barbara Willows of Clarkston; grandson Dan Willows Jr. of Lewiston; granddaughters Paige (Pete) Woods of Rathdrum, Idaho, and Billie Jo (Bill) Bartling; nine great-grandchildren; and 12 great-great-grandchildren.
She was preceded in death by her parents, William and Margaret Albin; all 11 of her siblings; her husband, George Allen; her son, George Allen Jr.; her son-in-law, Dan Willows; and one great-grandson and one great-great granddaughter.
At her request, there will be a family-only graveside service in Council, Idaho, where she will be laid to rest beside her husband. Arrangements are being made by Malcom's Brower-Wann Funeral Home.
In lieu of flowers, please make donations to either the Lewiston Community Center-Senior Citizens or the Valley Community Center in Clarkston.
Offer Condolences