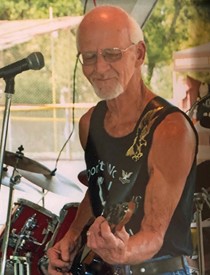 Russell (Jack) Zagelow
9/7/1954 — 8/22/2020
Russell "Jack" Zagelow, 65, of Orofino, died of cancer at Deary, Saturday, Aug. 22, 2020. He was born Sept. 7, 1954, to James Zagelow and Loretta Harris, and was the youngest of six children.

Jack was raised in Bovill. He graduated from Deary High School in 1973, and went to work for The CPTPA (Clearwater, Potlatch Timber Protection Assoc.) & McFarland Pole Company in the early 70's. He drove logging trucks for various companies for many years, retiring in 2017 from Bear Creek Timber Company out of Orofino.

His passion was his family and his guitar. He started playing guitar when he was nine years old when his older brother Joe taught him an E minor chord. He played Rock & Roll with various bands, starting in the early 70's, and played with "6 String Circus" the last four years. He was known and loved by many as "Uncle Jack" or "Ripper."

Jack is survived by daughter Loretta Marie Zagelow, of Orofino; stepson Jaime Dee Steadman of Healdsburg, Calif.; brothers Allen Zagelow, of Moscow, and Joe Zagelow (Kari), of Deary; sisters June Smith (Justin), of Bovill, and Carla Eggers, of Lewiston; brother-in-law Stan Babkowski, of Stephenville, Texas; grandsons Curtis and Miles Hamilton, of Orofino; step-grandsons Lucas and Isaac Hamilton, of Lewiston; step-granddaughter Allie Steadman, of Orofino; and many nieces and nephews.

He was preceded in death by his parents; sister Cheryl Babkowksi; and great niece Kori Day.

A remembrance will be held at 2 p.m., Saturday, Oct. 3, 2020, at the Canyon Inn Bar and Grill, 20289 Big Canyon Rd., Peck, Idaho. Potluck Dinner with Music by "Six String Circus".

Memorial Donations may be made to the American Cancer Society, The National Kidney Foundation, and the Clearwater County Humane Society.

Malcom's Brower-Wann Funeral Home of Lewiston is in charge of arrangements. Please sign the online guestbook at www.malcomsfuneralhome.com.
Service Information
Date & Time

Saturday, October 3, 2:00 PM

Location

Canyon Inn Bar and Grill
20289 Big Canyon Road
Peck, Idaho 83545

Get Directions
Condolences
Steve and Laura Bigham
All of our love to Jacks family.
I loved his humor and kindness
Thursday, September 17, 2020 8:32 AM
Jeff Ohlson
Always remember Jack from growing up in Elk River I would go to Bovill and listen to him play at the fire hall his hair was longer than mine lol Always good times. Any time I was in a bar and there was music it was always great to get Jacks attention :) Sure will be missed.
Thursday, September 3, 2020 2:12 PM
Lydia Hamilton
Rest in peace Jack, we will miss you at the dinner table on holidays and bar bq's. And I will especially miss seeing the boys see you pull up and hearing them say Pops is here!!
Wednesday, September 2, 2020 8:56 PM
Cindy Plummer
Loved to listen to Jack play music, he will be missed. My condolences to the family and friends. Healing prayers for all
Wednesday, September 2, 2020 7:39 PM
Gary Herge
I met Jack thru his brother Joe. I worked with him several years at McFarland Pole in Bovill back in the 70's. I left Bovill for another job but to this day remained friends with him. I met up with him and Joe several times when I was in Deary with work or visiting. He was a good person and I'll miss him. JAM ON JACK
Wednesday, September 2, 2020 9:05 AM
Offer Condolences