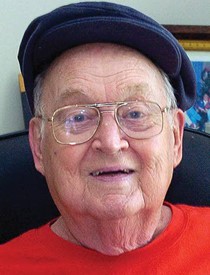 Roy Kennedy
6/7/1927 — 6/29/2017
Roy Howard Kennedy, 90, of Clarkston, passed away Thursday, June 29, 2017.
He was born June 9, 1927, in Canfield, Idaho, on the Joseph Plains in Idaho County. He was one of four children born to Edna Ethel Howard Kennedy and Angus D. Kennedy, following A.V. "Bill" Kennedy, Lavon Kennedy Gotzinger and Maxine Kennedy Ward. Within a couple of years of his birth, the family moved to White Bird and then to the Fiddle Creek Ranch on the Salmon River. While there, Dad befriended some prospectors mining the Salmon River who taught him to use a gold pan. During trips to Riggins for supplies, he was able to trade his gold dust for penny candies, a big treat for a child his age.
In 1934 the family moved to Pollock, Idaho, and Dad attended the Brushy Flat School at Pinehurst, which consolidated into the Riggins School system in 1941. Later in life, he took great satisfaction in coordinating the annual Brushy Flat school reunion. On the last day of his junior year of high school in Riggins, his parents picked him up at school and they were off to Lewiston. Dad graduated from Clarkston High School in 1945.
It was at Clarkston High that he met the love of his life, Ilene Carroll. After graduation, he was drafted into the U.S. Army, serving all his time with the 2nd Infantry Division at Fort Lewis, Wash. Upon returning to Clarkston, he and Mom were married Jan. 17, 1947, driving through a snowstorm to honeymoon in McCall. They celebrated 54 years of marriage before Mom passed away in June 2001.
For many years Dad and Mom had been friends with Wally and Jean Anderson. They had brought their families together for many outdoor barbecues, Fourth of July celebrations and beach parties on the river. The families always were close and after each of their spouses had passed, Dad and Jean became companions, dancing and singing karaoke at the Eagles Lodge and attending family functions and the Brushy Flat Reunion together. Dad was always amazed by the epic Anderson Christmas Eve celebrations. Jean and Dad spent many years together enjoying each other's company until Jean passed away in December 2015. A special thanks to the Andersons for the love they shared with Dad through the years. Know that he loved you back.
Dad and the family also truly enjoyed the large family gatherings with the Oaklands, especially at Christmas sharing good food, games and laughter.
In his adult life, Dad had worked in banking for the city of Clarkston, Potlatch Forests Inc., COD Laundry and Blue Ribbon Laundry, ultimately retiring in 1989 as the maintenance director for the Asotin County Housing Authority.
For many years he and Mom operated the Silver Dollar Cafe in Lewiston, retiring again in 1994. Dad was the bookkeeper, lead french fry cutter, delivery driver, janitor and purchasing agent, but Mom kept him as far from the kitchen as possible.
Throughout his life, Dad liked to be involved in things. He was a member of the Jaycees as a young man and, along with Bill Courtney, was instrumental in starting the Lewiston-Clarkston Valley's annual tradition of having a lighted star on the Lewiston Hill each Christmas. He was a longtime active member of the Moose Lodge as well as the Clarkston Eagles Aerie. He served as the treasurer for the Eagles for many years, giving up that position two years ago when he could no longer write checks for the lodge due to arthritis in his hands.
In retirement, many days were spent on the Salmon River. His favorite places to go were the Cross-O Ranch and French Creek. Dad would fly fish for rainbow trout on the Little Salmon River while Mom would work word search puzzles in the car.
Jim K. said the only time he heard Dad swear was when Dad hooked a steelhead while fishing with his fly rod and Jim, trying to help, was going to grab onto the line and drag in the fish. Dad was a charter member of the McDonald's coffee crew. He enjoyed his time with his friends gathered around "the table of truth," swapping yarns with all the guys.
Dad and Mom raised six children, and all survive him: Linda (Jim) Fisher of Asotin, Cathy (Jim) Fuller of Clarkston, Jim (Konni) Kennedy of Gig Harbor, Wash., Bobbi Colson of Clarkston, Dan (Shelly) Kennedy of Clarkston, and Becky (Marty) Weber of Clarkston. He also is survived by 13 grandchildren: Terry O'Keefe, Wendy Fuller Rogers, Todd Fuller, Andrya Paffile, Katie Kennedy Frazier, Jamie Colson, Kenzi Colson Jones, Tyler, Brian and Robert Kennedy, Brandy Ellsworth Rasmussen, Michael Ellsworth and Amanda Weber; as well as 22 great-grandchildren and one great-great-grandchild, with two more on the way. He was preceded in death by his parents, his siblings and sons-in-law Benny O'Keefe (1974) and Ken Colson (2017).
The family would like to give huge thanks to the residents and staff at Prestige Health and Rehabilitation for the care and love they provided Dad in his time there, and Elite Home Health and Hospice for the comfort they brought to his final days.
A celebration of life will be held at 11 a.m. July 14 at the Eagles Lodge in Clarkston
Cremation has taken place, and both Mom and Dad will be buried in Riggins at a later date.
Service Information
Date & Time

Friday, July 14, 11:00 AM

Location

Clarkston Eagles Lodge
505 Maple Street
Clarkston, Washington 99403

Get Directions
Offer Condolences