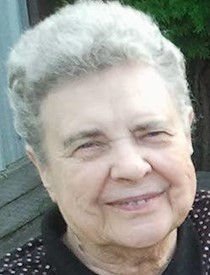 Rosalie Blankenship
6/15/1923 — 6/28/2019
Rosalie M. Blankenship, 96, passed away Friday, June 28, 2019, in Lewiston.
She was born at Cameron, Idaho, to Gustav and Martha (Silflow) Kruger, on June 15, 1923. She attended the one-room grade school in Cameron and the high school at Southwick. She contracted polio at age 11, but was fortunate it left little damage.
On Nov. 1, 1941, she married John T. Blankenship of Leland. They had two children: Larry John and Betty Diane.
John and Rosalie farmed for 40 years in the Cameron-Southwick area. After the children were grown and gone, Rosalie helped on the farm and drove their grain trucks in harvest for 15 years. She always raised a big garden and had berries. At retirement, they moved to Lewiston Orchards. They belonged to the camper club and went on many outings in their RV. They fished streams, square danced, went on tours to Mexico, Alaska and Hawaii and took a Caribbean cruise.
Rosalie dearly loved her grandchildren and often had them for visits.
John and Rosalie attended the Lutheran Church in Cameron and then Grace Lutheran in Lewiston. Rosalie sang in the choir and helped make many quilts to send overseas. She spent a season as a cook at the University of Idaho and later worked as a proof reader at the Lewiston Tribune. Rosalie enjoyed sewing, making quilts and especially wall papering and writing poetry. She contributed many articles and poems to the Kendrick Gazette, and many of her poems were published in magazines.
John passed away in 2013. They had been married almost 72 years. Also preceding her in death were her parents; son Larry; and two sisters, Elsie Freeman and Dorothy Sinclair. Surviving are daughter Betty (Ed) Radtke; daughter-in-law Mary Blankenship; six grandchildren; and numerous great-grandchildren and nieces and nephews.
Rosalie will be missed by all who love her.
A memorial service will be held at 1 p.m. Saturday at Grace Lutheran Church, 3434 Sixth St., Lewiston.
Service Information
Date & Time

Saturday, July 6, 1:00 PM

Location

Grace Lutheran Church
3434 6th St
Lewiston, ID 83501

Get Directions
Offer Condolences