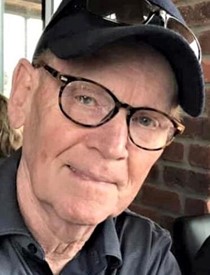 Ronald Karlberg
4/15/1940 — 4/8/2023
Ronald T. Karlberg, 82, passed away at home in Lewiston on Saturday, April 8, 2023, from cancer.
Ron, an Inland Empire Cutest Baby Awardee, was born in Moscow on April 15, 1940, to John H. Karlberg and Hattie C. Spivy. Ron began school at the old Whitman Elementary School in downtown Lewiston and continued at the new Whitman School until third grade. Ron's family then moved to Kamiah for two years. The family returned to Lewiston where Ron would graduate from Lewiston High School in 1958.
While at LHS, Ron was a three-sport letterman for football, basketball and baseball all through high school. Ron played American Legion Baseball, 1956-57, where they won the state title in '57. Ron was also selected for All-American honors for football during his senior year. The friends Ron made as a child and at LHS would remain his friends until the very end. Those friendships meant the world to him.
Ron attended the University of Idaho on a football scholarship in the fall of 1958. In the spring of 1959, Ron was recruited by the Los Angeles Dodgers and played one year in the Odessa, Texas, league but suffered a back injury that ended his baseball career. (The back injury did, however, allow him to meet his baseball hero, Mickey Mantle, while recovering from surgery, and also led to meeting his future wife).
After returning from Los Angeles, Ron attended Lewis-Clark State College before returning to U of I where he received a bachelor's degree in education and a subsequent master's of education. Ron began his teaching profession in the fall of '64 at his alma mater, LHS. Ron taught U.S. history and was the assistant coach in football and baseball under Head Coach Dwight Church (whom he adored). During the summers, Ron coached American Legion Baseball with Dwight. They coached the team to a state championship in '68. Ron was also a member of the National Education Association, Idaho Education Association, Lewiston Education Association and former member of the Lion's Club.
In '69, Ron was named assistant principal and head football coach at LHS (1969-71). Ron would remain the assistant principal at LHS until his retirement in 1998, though he wore the caps of athletic director and principal when needed. Ron really cared about his students. He knew their names, their stories, their strengths and their weaknesses. He knew about their families, their dreams and their needs. Ron loved his job and enjoyed working with all the staff in the Lewiston School District. There he made lifelong friends whom he would routinely meet with for coffee, and/or breakfast on Saturdays.
In 1961, Ron met the love of his life, Judy Ward, at a dance in Asotin. Ron and Judy were married September 2, 1961, enjoying 61 wonderful (and never boring) years together. Judy and Ron had three children, Brent, Kalyn and Chanda. Ron was an amazing husband and father who, along with Judy, created a happy home where he loved, inspired and supported all the hopes and dreams of his children.
In retirement, Ron enjoyed working with the Nez Perce County Historical Society and served on their board. Ron was a 2022 recipient of the Idaho Historical Society's Esto Perpetua Award. Ron also enjoyed catching up with all his friends and past students from LHS, and the many reunions he attended. Ron also traveled with his wife Judy to Europe, Canada and all over the U.S. (We can't say Ron enjoyed it as much as Judy did. Let's be real, Ron would have rather been home watching football.)
Ron is survived by his daughters, Kalyn and Chanda Karlberg, and his grandchildren BreaAnna and Malcolm Karlberg.
Ron was preceded in death by his wife, Judy; son, Brent (Lisa) Karlberg; foster-son, Tom (Ilona) Clark; mother, Hattie Spivy White; father, John Karlberg; and siblings: Lou Heasley and Glenn and Arlo White.
Ron would hope he is remembered not only as a good husband, father, friend and mentor, but a person who loved and celebrated his hometown of Lewiston.
A celebration of life, or as Judy called it — a party, is planned for Saturday, July 22. Further details will be placed in the Lewiston Tribune, and to social media sites, in the coming days. In lieu of flowers, Ron would have loved donations be made to Lewiston School District or the Nez Perce County Historical Society.
Service Information
Date & Time

Sunday, July 23, 10:00 AM
Condolences
Steven Branting
So many years as a student, teaching colleague and then fellow historian will keep the memories alive. Ron never failed to bring focus to those around him.
Old teachers never die.
Friday, May 26, 2023 7:31 AM
David Taylor
Great guy who offered advice a kid could understand and later in life who shared lunches when I came home from the Marines. What a life he lived!
Respected and missed by many.
Saturday, May 20, 2023 4:39 PM
Offer Condolences