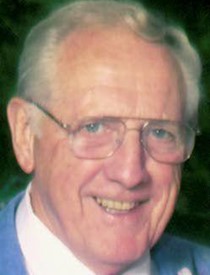 Ronald Bloom
9/24/1928 — 4/28/2019
Ronald Romaine Bloom, 90, passed away Sunday, April 28, 2019, at his Lewiston home.
He was born Sept. 24, 1928, to Carl Edwin and Rosalyn Delia (Foster) Bloom.
He married Dorothy Smith on Jan. 29, 1947; They both graduated from Kellogg High School later that year.
They had three children. In 1960, the family moved to Lewiston, where he worked for Skelton's Floor Covering.
The couple divorced in 1966.
Ron married Carolyn Nance on Sept. 22, 1967. The couple started Bloom's Home Center in 1970 and they retired in 2005.
Ron is survived by his wife of 51 years, Carolyn; son, Randy Bloom (Carolyn Jones); daughters, Gay (Rod) Nichols, and Shay (Wayne) Wood; eight grandchildren; and 14 great-grandchildren.
He was preceded in death by his parents, Carl and Rose; brothers, Ken, Richard, Robert and Theodore Bloom; sisters, Lorraine Vroman and Bernice Phelps; and grandson, Wayne Wood Jr.
The family would like to give special thanks to the care providers that took good care of Ron; his doctors and Elite Home Health. And to Carolyn for the loving care she provided Dad so he could remain home until his death. There will be no services at Ron's request.
A gathering for family and friends will take place at 2 p.m. Saturday, May 11, at 6467 Cougar Ridge Drive, Lewiston.
In lieu of flowers, donations may be made to the Parkinson Foundation, Willow Center, P.O. Box 1361, Lewiston, ID 83501 (For Camp Erin); Bill Wilson's Metro World Child, P.O. Box 695, Brooklyn, N.Y. 11237-0695; or a charity of your choice.
Condolences
Pastor Daniel and Lois Messner
Our deepest sympathy to Carolyn. Lois and I just last night were talking about you and Ron. We remember you so well. I remember when Ron became a follower of Jesus and both of you were an integral part of the Alliance Church in Pullman in the 80's. I remember the day we moved away from WA you and Ron came to the house to say good bye. I also remember officiating his sister Lorraine's funeral. I will be looking froward to seeing Ron in heaven. Shalom. Pastor Daniel and Lois Messner
Sunday, September 1, 2019 10:37 AM
Gay Nichols (daughter)
My dad came to the Lord at the age of 50, and it really gave him great comfort and joy in his life. One of his greatest joys was visiting with the members of his family and hearing about the adventures of his grandchildren and great-grandchildren.
Saturday, May 11, 2019 10:29 PM
ROGER JONES
Randy and family, I am sorry for your familys loss. I hope this summer will bring happier days to you and the family members......Roger Jones
Thursday, May 9, 2019 6:17 PM
Offer Condolences