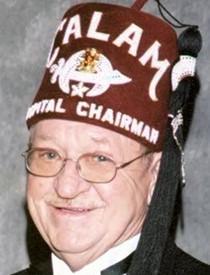 Ronald Asker
5/19/1938 — 7/24/2021
May 19, 1938 — July 24, 2021
Ron was born to Louis and Helen Asker in Grangeville, the third of five boys. He graduated from Grangeville High School in 1956 and attended Boise State College for one year. Ron married Patt Todhunter in 1960 in Grangeville.
Ron was a member of the Idaho National Guard and Idaho Army Reserves. He was a 33rd degree master Mason and enjoyed the fraternity, its charities and its members for 54 years. Ron was a longtime member of Calam Shriners in Lewiston and served as Hospital Transportation Chairman for 19 years.
Ron was preceded in death by his parents and his oldest daughter, Becky Durham, who passed away in 2006. He is survived by his wife, Patt; Becky's husband, Jae, and their two children, Eric and Callie; his daughter Cindy and her children, Brian, Libby, Ally and Josh; and his son, Ron Asker Jr., along with his wife and children, Bethany Gallo and Christopher, Jo and Hailey Asker; and nine great-grandchildren. Also his beloved pets Annie and Nikki.
Ron grew up working in the grocery business and purchased the Genesee Food Center in Genesee.
He later became a real estate agent in Lewiston and moved the family there in 1976. Following his career in real estate, Ron became an entrepreneur by opening Sunset Mart convenience stores with his wife and children, which grew to 10 locations. Ron retired at age 50 and enjoying fishing with son Ron for many happy years and enjoyed spending time with his children and grandchildren.
A memorial will be held at 1 p.m. Sunday, Aug. 1, at the Masonic Temple located at 1122 18th Ave., Lewiston. Donations in lieu of flowers may be made to the Calam Shrine travel fund 1122 18th Ave., Lewiston, ID 83501, and to the Willow Center for grieving children, 1714 G St., Lewiston, ID 83501.
Service Information
Date & Time

Saturday, July 31, 1:00 PM

Location

Masonic Lodge
1122 18th Avenue
Lewiston, Idaho 83501

Get Directions
Offer Condolences