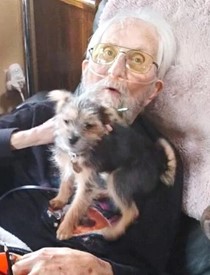 Robert Lewellyn Brown
8/26/1931 — 2/26/2023
Aug. 26, 1931 —Feb. 26, 2023
———
On Sunday, Feb. 26, 2023, Bob finally got his wings, following a long battle with cancer. He was a loving husband, father and grandfather. He will be missed by all who knew him, most of all by his devoted wife and children. Bob made this world a better place. He was always brave, gracious, polite and always concerned about others. He was a great example of positive living and following God's teachings. He would always say thank you for the smallest thing anyone did for him, even in his last hours.
Bob was born in Compton, Calif., to Everett Llewellyn Brown and Julia Lovett Brown. He had a younger sister, Pat. He graduated from Alhambra Union High School in Martinez, Calif., in the class of 1949, and attended the University of California, Berkeley, graduating in 1953 from the Army ROTC program as a commissioned 2nd Lieutenant in the U.S. Army Corps of Engineers.
His first love, Jaclyn Sue Dillon, was a pen pal whom he met in 1953. He says it was love at first sight and they were married six months later, April 10, 1954. Jackie died in 1995 from an aneurysm.
His first tour of duty was in Japan, where their first daughter, Bonnie Alyne, was born. She was very ill and died in Falls Church, Va., when she was 18 months old.
Bob and Jackie spent his second tour in Germany, where he was the commander of the Redstone 86th Artillery's Oxygen Project. He also became an advocate and defender of black men who were unjustly treated because of prejudice.
During his second tour in Vietnam, Bob received a plaque of appreciation from the Vietnam Department of Public Works for his contributions as the engineer adviser in the building of the Vietnam North-South Highway. That highway is still in use.
Bob retired from the Army as a lieutenant colonel. He and his family moved to Moscow so he could get his master's in Forestry and Management. He graduated from the University of Idaho in 1974. They moved to Lewiston, where Bob worked as a planner for the City of Lewiston and later for Nez Perce County. In 1990, Bob and Jackie moved to Boise, where he worked for Boise City Planning and Zoning until retiring in 1996.
He married LaFawn Hamm in 1996, and she survives at their family home in Lewiston.
One of Bob's greatest passions was music. He loved playing the guitar. He was involved in many church music programs, playing the organ, piano and guitar and singing in choirs. He was a member of the Washington-Idaho Chorale and performed in plays at the Lewiston Civic Theatre.
Bob was involved in each community he lived in. His volunteering included Lewiston's Cemetery and Urban Forestry Commission, VFW, Kiwanis, the Christian Motorcyclists Association, the Lewiston-Clarkston Gospel Riders, Lewis-Clark Valley Barefoot Outlaws and a number of running and jogging groups. He also volunteered for Meals on Wheels (eight years), taught AARPs Drivers Education (five years), tutored students, taught sign language and routinely gave blood to the Red Cross.
Bob was preceded in death by his parents; his sister Pat Karr; his first wife, Jacklyn; and their baby Bonnie.
He is survived by his wife, LaFawn Hamm; his son Robert G. Brown; daughters Robin Brown, Michelle LaVonne and Alyne Branson (Darrin); stepsons James Hamman (Cathy), Robert Oliver (Kathy) and Chris Oliver (Nami); grandchildren Randy Brown, Calista Wallick (Josh), Carmen Fowler, Jack Fowler, Colton and Keelie Branson, Brad Oliver, Nichole and Shane Hamman, Mei and Emma Oliver; and great-grandchildren Major Fowler and William and Piper Wallick.
We would like to thank Advance Hospice for the excellent care Bob received. Especially Angie, Sandra, volunteer Roy and our son Chris, without whom Bob wouldn't have been able to spend his last days in his home.
In lieu of flowers, Bob wanted donations to Caring Hearts and Hands of Hope, P.O. Box 7152 Boise, ID 83707 to help break the cycle of poverty through education in Kenya; or your favorite charity.
There will be a celebration of his life at 1 p.m. Saturday, April 15, at the Normal Hill Cemetery memorial garden in Lewiston.
Offer Condolences