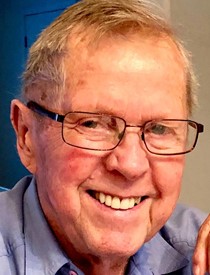 Robert Arledge
1/1/1932 — 6/16/2020
Robert Wayne Arledge, 88, of Lewiston, passed away Tuesday, June 16, 2020, at his home after a long battle with melanoma.
Bob was born Jan. 2, 1932, in McMinnville, Ore., to Howard and Harriet (Cox) Arledge. He graduated from Asotin High School in 1950 as student body president. He served in the Marine Corps from 1951 to 1954 and spent one year in Korea serving as a corporal, earning a Korean Service Medal with two stars, United Nations Service Medal, National Defense Service Medal and Good Conduct Medal.
On May 6, 1956, he married Judy Arledge in Lewiston. He worked at Montgomery Wards in Lewiston in the 1960s and for Mark Means (Western Farm Service/McGregor's) in Gifford from the 1970s to 1993. Bob was a member of Good Hope Lutheran Church in Gifford.
He is survived by his wife, Judy Arledge, of Lewiston; sons John, of Lynwood, Doug, of Nampa, and Cody Arledge, of Olympia; and grandsons Wyatt Arledge (MaKenzy), of Olympia, James McMahan (Mandy), of Pacific, Wash., and Jeremiah McMahan (Amy), of Olympia.
Bob was preceded in death by his sisters, Margaret "Meg" and Dorothy "Kidder," father Howard Arledge and mother Harriet Jane Arledge.
A funeral service will be at 11 a.m. Saturday at Good Hope Lutheran Church in Gifford, with Val Beesley of Good Hope as the officiant.
Malcom's Brower-Wann Funeral Home of Lewiston is in charge of arrangements. You may sign the online guestbook at malcomsfuneralhome.com.
Condolences
steve gano
Cody,
I am very sorry to hear of your loss. Guys like your Dad don't come along very often. Take some time help your Mom.
Thursday, June 25, 2020 9:14 PM
Patti Dill
To Judy and Boys. So sorry to hear of Bob's passing. I know he is in a better place than here but it still hurts all the same. We lost Mom in April and its still raw. Give yourself time to heal and don't apologize that you need that time for grieving.
Friday, June 19, 2020 4:37 PM
Offer Condolences