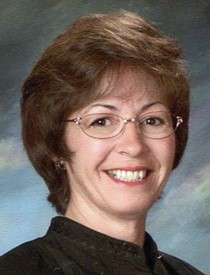 Rita Louise (Stewart) Blewett
8/10/1949 — 7/14/2022
Rita Louise (Stewart) Blewett passed quietly at her home Thursday, July 14, 2022, with family by her side. She was 72. She endured a series of serious medical difficulties over the past two years, which ultimately led to her death.
Rita was born at St. Joseph's Hospital in Lewiston, Aug. 10, 1949, to Don and Marie Stewart. Rita grew up as the little sister of the family, the youngest of three children, as they made their home in multiple small towns in the area, before settling in Lewiston. Rita attended Our Lady of Lourdes School in her younger years, before moving on to and graduating from Lewiston High School with the class of 1967. She remembered fondly those teen years, working as a car hop at the Frostop Drive-In in downtown Lewiston.
After high school, Rita moved to Salt Lake City to attend and graduate from Patricia Stevens Career College and Finishing School. An early desire to travel pushed her to pursue work in modeling, and as a stewardess with TWA. She soon returned to Lewiston and began working in the offices at the Lewiston mill for Potlatch Forests, Inc., where she met Bill Blewett, whom she married on Nov. 7, 1970. Over the next three years, she had two sons, and the family moved to Kendrick, which became her home for the remainder of her life.
Rita became a respected member of the Kendrick community, working at the family grocery store for a few years, before she and her husband sold the store to begin work together in an independent insurance agency. While there, Rita served as secretary to the board of directors of Nez Perce Farmers County Mutual, a position she took great pride in for more than 30 years, working to maintain that company, the only remaining county mutual still in business in the state.
At the same time, Rita acquired and managed the Kendrick Liquor Store, which led to battles she took on at the Capitol in Boise. She spent years fighting on behalf of small contract stores to prevent them from being driven out of business by large corporations. In these battles, she happily embraced earning the nickname "That bitch up north," from bureaucrats in Boise.
Aside from her professional life, Rita served on Kendrick's City Council in the 1990s. She also volunteered for years to help with Kendrick High School's Junior Miss and Young Woman of the Year programs.
Throughout the years that Rita was raising her boys, time was spent traveling the Pacific Northwest to "Rod Runs" in the family's 1939 Nash sedan. While at home, Rita enjoyed sewing and creating elaborate Halloween costumes, hosting and attending parties, and sharing meals and good times with many friends and family members. Rita also enjoyed mothering not only her sons, but most of their friends, as her house became a central meeting location for many Kendrick-area kids. The pool table in her basement or the hot tub on her deck became the place to hang out for many. Somehow, it became normal for Rita to come home from work to kids already making themselves at home, whether her sons were there or not.
Shortly after her sons were grown, Rita divorced in 1997. Finding herself in an empty nest, she embraced another passion, gardening and landscaping. The next few years, she spent countless hours pouring blood, sweat and tears into creating the diverse floral landscape with which she always wanted to surround herself.
After her gardens and lawn were set, Rita met Richard Blankenship, who became her companion for her last more than 20 years. With Richard, Rita pursued another passion she held — travel. Together, they enjoyed multiple amazing trips to Cozumel to enjoy the beaches, snorkeling, zip-lining and exploring Mayan ruins. Their travels also took them on an Alaskan cruise and a trip to Europe to explore Holland, Denmark, Austria and Germany. In all, Rita lived a full life.
Rita was preceded in death by her parents, Don and Marie Stewart; and nephew Jeremy Stewart. She is survived by her brother Don (Becky) Stewart, of Middleton, Wis.; her sister Alene (Glen) Olson, of Albany, Ore.; sons Shad (Christine), of Lewiston; and Ryan (Angelia), of Spokane Valley; grandkids Baylor, Keira and Karis Blewett, of Lewiston and Kallie and Zayda Blewett, of Spokane Valley; nieces Shelly (David) Petzold of Middleton, Cindy (Jack) Truitt, of Oak Point, Texas, Renee (Jason) Robbins of Purvis, Miss.; and nephew Jason (Shiloh) Olson of Vancouver, Wash.; and many extended family and friends.
Rita will be laid to rest with a service at 11 a.m., Saturday, July 30, at Brower-Wann Funeral Home, 1711 18th St., Lewiston. A reception will follow at The Orchid Room in Morgan's Alley at 301 Main Street, Lewiston.
The family requests any memorials to be made in her name to the Kendrick-Juliaetta Ambulance Fund or the Pat Rush Memorial Fund in Kendrick.
Service Information
Date & Time

Saturday, July 30, 11:00 AM

Location

Malcom's Brower-Wann Funeral Home
1711 18th Street
Lewiston, ID 83501

Get Directions
Offer Condolences