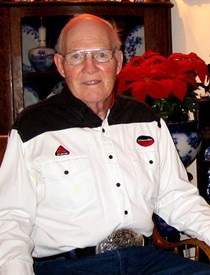 Richard Southern
8/2/1940 — 11/5/2021
Richard "Dick" Southern, age 81, passed away due to Covid-19 on November 5 at St. Joseph's Medical Center in Lewiston, Idaho.
Dick was born in Clarkston Washington on August 2, 1940 to Tom and Elna Southern. His family lived at Summit Idaho before moving to Gifford which would become his home town. He was the second of four children with an older sister Hazel, and younger brothers Tommy and Don.
After attending elementary school in Gifford, Dick graduated in 1958 from Culdesac High School. In 1962, Dick married Helen Doris Lenz in Craigmont. First son, Alan was born in 1963 and the family moved to Lenore, Idaho where Dick worked as a seed man. Second son Gary joined the family in 1965. After the passing of his father-in-law in 1968, the family moved to Craigmont, Idaho where Dick would take over the farm and ranch as well as live in the family ranch house for the next 53 years.
Third son Ryan was born in 1971. Dad was dedicated to the ranch and worked hard each and every day. His work ethic would carry all the way until the end of his life. He couldn't sit still as there were always projects that needed to be taken care.
Just after Christmas of 1978, Dick lost his beloved wife Doris to cancer. He rose to the challenge and raised his three boys while being a single father. He would also become a second father to many of his son's friends. Rough and tumble games of spoons on the family room floor were legendary.
Dick was dedicated to serving his community. He was a member of the Highland School Board. For many years he helped organize the annual Craigmont June Picnic. Just last year, he has truly humbled and honored to serve as Miss Ilo during the 100th anniversary reenacting the celebration joining the two pioneer towns of Ilo and Vollmer into Craigmont.
In the early 80's, Dick would discover an old piece of blue china in an old abandoned building on Angel Ridge located near Melrose, Idaho. This one plate would ignite 40 years of collecting and researching flow blue china. He became an expert on the history of the flow blue china manufactured by the Wheeling Pottery Company located in Wheeling West Virginia. He authored a book about the china produced by the plant which was in operation from 1879-1908.
In 1986, Dick was one of 21 avid flow blue china collectors who met and founded the Flow Blue International Collectors Club. Today, the club has over 800 members. He attended many club conventions and many times was a speaker presenting his research about flow blue china.
Dick was an active member of the Ilo-Vollmer Historical Society. One of his very projects was researching the historical impact of Colonel William Craig. He loved dressing up as "The Colonel" and traveling to schools and civic groups to reenact his historical character. His effort and dedication in preserving local history was rewarded in 2011 when he was presented with an Esto Perpetua Award, the most prestigious recognition given by the Idaho Historical Society.
After retiring from farming, Dick found time to travel. Some of his most memorable trips were to Cabo San Lucas, Ireland, and Amsterdam. He would also travel with his family as they shared summer trips throughout the United States.
2004, his one and only grandchild, Sydney, was born. Dick was so very proud of his granddaughter and enjoyed sharing the family history with her. Dick made Christmas a special time at the ranch and made sure to feed his family well. The Southern family pasta salad, Knox blocks, and his legendary huckleberry cream pie became traditional foods each holiday season.
One of Dick's final projects was authoring a book on the history of his home town of Gifford Idaho.
Dick is survived by his sons Alan and Cathy Southern in Blackfoot, Idaho; Gary and Tiffany Southern in Meridian, Idaho; Ryan Southern in Craigmont; Granddaughter, Sydney in Meridian; brother, Don and Donna, in Gifford, Idaho; and sister, Hazel Swain from Howell, Michigan. He was preceded in death by his wife, Doris; parents, Tom and Elna; and brother, Tom.
A funeral service is scheduled for 1 pm on Saturday, November 13, 2021 at the Malcom's Brower-Wann Funeral Home located at 1711 8th Street in Lewiston, Idaho. Burial will follow at 3 PM at the Craigmont, Cemetery followed at 4:00 pm with a light luncheon and refreshments to celebrate Dick's Life at the Craigmont Community Center next to the City Park in Craigmont. In lieu of flowers, please donate to the Io-Volmer Historical Society on his behalf. The mailing address for the historical society is P O. Box 61 Craigmont, Idaho 83523.
Service Information
Date & Time

Saturday, November 13, 1:00 PM

Location

Malcom's Brower-Wann Funeral Home
1711 18th Street
Lewiston, ID 83501

Get Directions
Condolences
Keith and Diane Hall
We are so sorry for your loss Southern family.
Keith and I will not be able to attend the funeral as we both have Covid. Diagnosed November 8. Dick was so much fun to work with when we had city community plays. His presence in the community will be missed.
Tuesday, November 9, 2021 9:14 PM
Offer Condolences