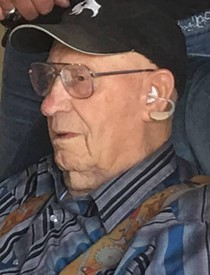 Richard "Sonny" Stout
7/14/1917 — 9/17/2020
Richard "Sonny" Lawson Stout, 103, of Clarkston, passed away Thursday, Sept. 17, 2020, from natural causes at Royal Plaza Health and Rehabilitation Center in Lewiston.
He was born on July 14, 1917, to Richard David Stout and Catherine M. Sprenger Stout at his parents' home south of Uniontown. He was the first child in a family of three boys and three girls. Sonny started school at age six at the Hall School, just a short distance from his home. After graduating from the eighth grade, Sonny entered high school at the Uniontown Public School. After going three years at the public high school, he transferred to Colton High School and graduated in the class of 1935. After high school, Sonny lived at home and worked for his dad as a hired man.
Sonny married Wilma Virginia Easto of Pullman on June 27, 1948, at the Pullman Baptist Church. They moved to the farm three miles south of Uniontown. The house and buildings still stand at the corner of Stout Road and Highway 195. After they got back from their honeymoon, as a romantic gesture, Sonny prepared and cooked their first breakfast together in their new home. They farmed there until 1983 when they moved to Clarkston. In retirement, he remained active raising cattle, making hay and harvesting crops. Even into his early 80s, Sonny rode his mare, Goldie, rotating and gathering cattle within the Helmer Association, Hatwai Canyon and summer pastures around the Bovill area.
He was a member of the board and later president of the Uniontown Co-Op Association. In addition, Sonny was a longtime member of the Elks Lodge. He was a Mason, belonging to the Colton Lodge, and a Shriner. He enjoyed trap and skeet shooting at the Lewiston Gun Club for many years. He was quite skilled, often having a perfect "25" score. Sonny often hunted upland game birds, deer and elk. He was also an avid gardener and especially enjoyed raising tomatoes.
Sonny was an integral part of the annual Uniontown Sausage Feed. Not only did he help make sausage for the event at the Uniontown Community Building, his smokehouse was used as one of places the meat was cured.
Sonny is survived by his son, Randy C. Stout of Clarkston; grandson, Jason L. Stout of Uniontown; great-grandson, Lawson Stout of Cheney; sisters Myrtle Fulfs and Francis Taufen; and numerous nephews and nieces. He was preceded in death by his parents, Richard D. and Catherine Stout; wife Wilma Virginia Stout, who passed in 2002; three sons, Donald and Robert who died in infancy, and James, who died in a trailer fire in 1978; brothers Eugene J. Stout and John D. Stout; and sister Dorothy Anderson.
Visitation for family and friends will be held from 2-6 p.m. Wednesday, Sept. 23, at Malcolm's Brower-Wann Funeral home in Lewiston. A graveside service will be held at 11 a.m. Friday, Sept. 25, at Normal Hill Cemetery in Lewiston. Reception to follow. Social distancing and standard protocols are suggested. Those wishing to make memorial contributions may make them to Shriners Hospitals for Children — Spokane or any organization of your choice.
Service Information
Date & Time

Friday, September 25, 11:00 AM

Location

Normal Hill Cemetery
1122 7th Street
Lewiston, Idaho 83501

Get Directions
Offer Condolences