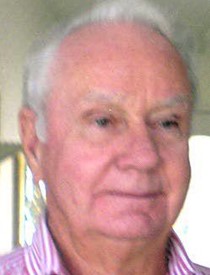 Richard Law
11/6/1926 — 3/15/2019
Richard Walter Law Sr., passed away Friday, March 15, 2019, surrounded by his family. He was 92 years old. Dad was born Nov. 6, 1926, to Walter Law and Stella Coffland Law at the family home on Rock Creek Road near Culdesac.
Dad grew up on the family farm. He would tell us many stories of his growing-up days. One of his earliest memories was of his mom saddling up her horse, putting him in front of her on a pillow and riding off to visit his grammy. One of our favorite stories was the time he brought home a stray dog and asked his father if he could keep it. His father said he could, but it would be up to him to name it and take care of it. A few days later his father asked him what he had named the dog. He told him "Oscar Elmer Alexander Hercules Prometheus Prunepit McGee." His father said that was OK, but he was just going to call it "Old Parm."
Dad attended school in Culdesac, graduating in 1944. He then enlisted in the U.S. Navy and served on the USS Bell DD 587 in the South Pacific during World War II. The Bell patrolled and escorted convoys in the Philippines until the end of the war. After being honorably discharged, he attended Lewis-Clark Normal School.
Soon after college he met and married Jeannine Cole. They had five children, Peggy and Patty, Carolyn Ann, Richard Jr. and Lauri. He and Jeannine later divorced.
Dad joined his brother J.B. working on the family farm for several years before purchasing an insurance business in Culdesac. Dad said nearly all of the local farmers bought hail insurance and that was a big part of his income, so every spring he would take his hail insurance applications and make the rounds to his farm customers. He said he always managed to be at one of the best cook's homes at noon time and usually got a nice policy as well as an excellent meal.
In 1967, he married Betty Atkinson. She brought three children to the family, Mike, Lori and Peggy. Shortly after getting married, they moved the family and business to Lewiston. Over the years he expanded the business to include investments and real estate.
Dad was creative and inventive. He had many interests throughout his life, including riding motorcycles, camping, golfing, building model airplanes and, at one time, restoring a 1919 Studebaker. He was an accomplished writer, having written his life story and numerous poems for friends and family.
Rich and Betty spent their retirement winters in Borrego Springs, Calif., where they golfed and went on desert adventures with their numerous snowbird friends. Dad's easy-going nature, along with his sense of humor and quick wit, earned him many lifelong friends.
Rich is survived by his wife of 51 years, Betty; his daughters, Peggy Rode, Patty (Hugh) Mincher, Ann (Garry) Jones, Lauri (Bob) Byers and Peggy (Alan) Byers; and sons Rich Law Jr. and Mike Atkinson. He is also survived by numerous grandchildren and great-grandchildren. He was preceded in death by his two brothers, Del and J.B. Law; sister Edie Hampton; daughter Lori Nanninga; and son-in-law Jeff Rode.
A family memorial is planned for a later date.
Offer Condolences