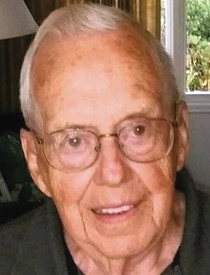 Richard Adams
7/8/1925 — 4/5/2016
Richard James "Dick" Adams, 90, of Lewiston, passed away Tuesday, April 5, 2016, at Tri-State Memorial Hospital in Clarkston.
Dick was born July 8, 1925, in Elk River, to Harry and Mabel Adams. He spent his childhood in Elk River, where he participated in all sports and played in the high school band and orchestra.
When the U.S. became involved in World War II, he enlisted in the Navy in order to accompany two older friends who were drafted into the service. He took basic training and graduated with honors from radio school and was held as an instructor. His requests for a more active role in the war were eventually granted, and he served aboard an APA attack transport ship, which carried troops to land in the Philippines and Okinawa, Japan.
Upon leaving military service, Dick attended the University of Idaho and worked for the U.S. Forest Service during the summer. He married Joan C. Nilson of Troy on July 2, 1950. They lived in Moscow and Pierce before moving to Lewiston in 1953, where he began his career at Potlatch Forests Inc., initially in the pulp and paper division as a shift worker. He also served for a time as president of the Local Paperworkers Union. After earning a correspondence degree, he donned a necktie and moved to the corporate side as an accountant, retiring in 1986.
In Lewiston, he was active in Boy Scouts and Babe Ruth League baseball, and served as president of the Orchards Parent-Teacher Association. Dick served as a volunteer for the Lewiston Orchards Volunteer Fire Department for 16 years. He also served on the Lewiston City Council from 1974 to 1978, the last two years as mayor of Lewiston. He was active for many years in the Robert Newell Masonic Lodge AF & AM and was a past master. He was a member of Grace Lutheran Church, the Lewis-Clark Wildlife Club and Lewiston Urban Forestry and served on the boards of the Normal Hill Cemetery and the Lewiston Orchards Sewer District.
Dick was an amateur radio operator and an avid reader, especially enjoying books about the war and local history. In his last several years of declining health, he spent many hours a day reading. He especially enjoyed getting calls from the ladies at the library when a new book on World War II arrived. He took an interest in cooking after retirement, which was much appreciated by wife Joan, as she was still working full time. Dick enjoyed music, especially swing and big band music, and played drums in the local Friddle Band with his two sons in the 1970s. Dick and Joan enjoyed dancing at the local clubs during those years. He enjoyed gardening, bird watching and animals. He looked forward to visits from his "grand dogs" Abby, Lily and Muki.
Surviving are his wife, Joan; daughters Janet Everheart of Port Orchard, Wash., and Cheryl (Stan) Otto of Lewiston; and sons Brian Adams of Reno, Nev., and Jeffrey (Kristin) Adams of Kirkland, Wash. Also surviving are grandchildren Rachel Riddle and Mason Riddle of Lewiston, Kimberly Everheart of Kirkland, Troy (Abbie) Everheart of Port Orchard, and Jack and Carson Adams of Kirkland; stepgrandchildren Aimee and Eric Otto; and great-grandchildren Kayli, Reid and Ella Everheart of Port Orchard.
He was preceded in death by his parents; son-in-law Gregory Everheart; and brother Robert Adams.
Funeral services will be held at 1 p.m. Saturday at Grace Lutheran Church, 3434 Sixth St., Lewiston, with burial to follow at Normal Hill Cemetery.
Memorial donations may be made to Grace Lutheran Church or the Lewis-Clark Animal Shelter.
Service Information
Date & Time

Saturday, April 9, 1:00 PM

Location

Grace Lutheran Church
3434 6th St
Lewiston, ID 83501

Get Directions
Offer Condolences