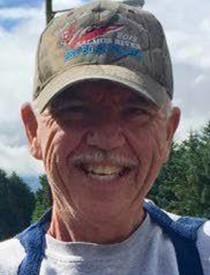 Randy Brockman
7/3/1958 — 7/25/2019
Randy Wallace Brockman, 61, passed peacefully after a long and difficult battle with pancreatic cancer Thursday, July 25, 2019, in Lewiston.
If love could have saved him, he would have lived forever. Randy was born in July 3, 1958, in Boise to Robert Wallace Brockman and Helen Ruth Brockman. He was an Eagle Scout and proud of all he learned through the years. He developed a love for camping, hunting, and the outdoors at a young age. Randy graduated from Lewiston High School in 1976. He was never one to waste time and jumped on a bus to San Antonio the day after graduation to join the Air Force. There he spent his years refueling F-111 Jets.
On Aug. 6, 1978, Randy's first daughter, Laura Lee Richins, was born, followed by his son, Jason Wallace Brockman, on Jan. 1, 1980. Randy managed 7-11s for 13 years and owned his own franchise for a year before deciding to start a business with his best friend Jon Muir. Around 1985, Elite Landscaping became one of Randy's first legacies. On Sept. 20, 1989, his next daughter, Kammi Lyn Brockman, was born. Randy's baby girl, Kelsey Marie Brockman, was born Aug. 14, 1993.
Landscaping was one of Randy's biggest passions. Bringing Elite to the Lewis-Clark Valley, he was so proud of his Christmas tree adventures and the traces of him he left all over the Valley. Randy did the landscaping at the old Walmart, Rosauers, several of the churches and countless residents in the community. He loved creating water features with creeks and waterfalls.
Around 1997, he continued his family's legacy and took over framing at Brockman's Art and Custom Framing. He was so passionate about his work and enjoyed the freedom and creativity he could express through framing and matting. He loved nothing more than when his middle daughter, Kammi, worked beside him at the shop. Traces of Randy remain all over the valley in the frames he created.
On March 7, 2018, Randy was diagnosed with stage four pancreatic cancer. Shortly after, on March 17, 2018, he married the love of his life, Corrina Marie Brockman, after being together for 13 years.
Randy's other love was golf. He spent immeasurable hours on the golf course and participated in golf league for countless years. Some of his favorite memories included having his youngest daughter, Kelsey, by his side in casual play and tournaments. Steelhead fishing was his favorite; he was always extra competitive around fishing derby time. His greatest fishing memory was catching a 50-pound halibut while fishing in Alaska. His 6-point bull elk was his fondest hunting memory; he was a great hunter by himself, and he preferred it that way.
Randy had a knack for never being busy enough and always wrapped himself up in other projects and hobbies. Many knew him as the Pickle Guy due to his elaborate gardens and mass amounts of pickling cucumbers he grew and sold. He raised rabbits, quail, chukars and chickens. He built green houses, drip systems and aquaponic gardens. Randy collected baseball cards, beer steins and oil lamps. He was always up before the sun and stayed busy until the moon. You'd rarely find him sitting, unless he was eating a bowl of ice cream.
Above all else, Randy was most proud of his daughters. He was a proud and passionate man and did more in his short life than most dream of doing. His smile was contagious; his laugh was infectious. Randy was always the life of the party. He gave his all in everything he did and loved fiercely. He spread his love, generosity, creativity and passion across the entire community, and his spirit will live with all of us forever.
Randy is survived by his children, Laura, Jason, Kammi and Kelsey; his wife, Cori; parents Bob and Helen; his siblings, Julie and Dale Ostler, and Georgia and Ron Barker; and grandchildren Jarom, Elijah, and Sariah Richins and Addalyn Pointon.
There will be a viewing from 3 to 7 p.m., Wednesday at Malcom's Brower-Wann Funeral Home, 1711 18th St. in Lewiston. A service will be held at 10 a.m. Friday at Malcom's Brower-Wann Funeral Home.
Service Information
Date & Time

Friday, August 2, 10:00 AM

Location

Malcom's Brower-Wann Funeral Home
1711 18th Street
Lewiston, ID 83501

Get Directions
Offer Condolences