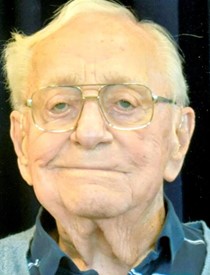 Ralph C. Wessels
3/1/1925 — 11/17/2021
Ralph Wessels passed away peacefully Wednesday, Nov. 17, 2021, at the Idaho State Veterans Home in Lewiston at the age of 96. He is now in heaven enjoying playing dice with his grandson and many of his friends. Ralph was one of a kind, who enjoyed life and was very kind hearted to anyone who ever had the pleasure of meeting him.
Ralph was born March 1, 1925, in Greencreek to Harry and Matilda "Tillie" Wessels. He graduated from Greencreek High School in 1943. Ralph told many stories of his school days of riding a horse and buggy and being mischievous with the nuns.
Ralph was drafted and served in the U.S. Army from 1944-46, spending time in Austria and Sicily. He was first in the infantry and then transferred into the Military Policy as a sergeant to which he was a body guard for General Mark W. Clark.
While in the military overseas, he met a young lady named Elizabeth "Lisl" Kraft and fell in love. They were married 1945 in Vienna. After his discharge, they both came back to Idaho where they started a family, having two handsome boys. He owned a gas station and worked very hard. Later, Lisl and Ralph separated.
He went on to start Industrial Parts & Machine with two other partners. Later he started his own business, TISCO Parts and Machine, which he then merged with Industrial Parts & Machine in 1978, which he ran until he retired. He was a hard worker and amazing business man who never backed down from a challenge. Yet he never forgot to help out those who were in need.
Ralph then met a unique lady named Marva Ness, and they were married Nov. 12, 1975, in Hawaii. Ever since then, Ralph has been a great partner in going along with the many ideas that had him dressing up as Santa, Bunny, Mark Anthony, and even a California raisin. Both of them enjoyed making others laugh at many celebrations over the years.
Ralph enjoyed life to the fullest, whether it was spending time at Priest Lake, his cabins at Freeman Creek and Salmon River. He loved spending time fishing, four-wheeling, snowmobiling and, of course, flying his airplane. He delighted in spending time with family and friends. Ralph would never say no to an adventure. It would be hard to find someone who was more caring and generous than him. He always said his long life was because of good clean fun along with having Jell-O every day, and tuna out of the can or other type of mystery meat. He will be greatly missed by all of those who had the honor of knowing him. He kept the good ol' farm boy mentality when trying to repair/fix anything, which we referred to as "Wesselfing," which meant he got it to work better than before or had to buy a new part.
Ralph was preceded in death by his parents; his grandson, Steven R. Wessels Jr.; his brothers Willie Wessels, Roy Wessels and Theodore Wessels; and his sisters Millie Funke and Mardel Sonnen.
His survivors include his lovely bride, Marva; sons Ted Wessels, Steve (Gail) Wessels; stepson Rod (Sheila) Pilkington; stepdaughter Penny Heilman; sisters Darlene Hasenoehrl, Ella Schaffer, Mary Jean (Don) Arnzen; and brother Urban (Jane) Wessels. Ralph enjoyed his six grandkids and five great-grandkids, plus, many nieces and nephews.
A celebration of his life will take place beginning with a viewing from 2-4 p.m. Saturday at Malcom's Brower-Wann Funeral Home, 1711 18th St., Lewiston. A funeral service will be held at 11 a.m., Monday at All Saints Catholic Church, 3330 14th St., Lewiston. In lieu of flowers, please make donations to Veterans of Foreign Wars.
Service Information
Date & Time

Monday, November 22, 11:00 AM

Location

All Saints Catholic Church
3330 14th Street
Lewiston, ID 83501

Get Directions
Offer Condolences