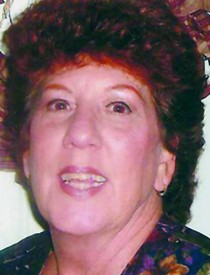 Raetta Carlin
11/24/1944 — 11/21/2017
Raetta Dee Carlin, 72, of Lewiston, was taken from us suddenly and tragically Tuesday, Nov. 21, 2017. She flies high with the angels, beloved by many and never to be forgotten.
Raetta was a familiar face at many local establishments including The Red Shield, The Lewiston Golf and Country Club, Elks Lodge, Three Mile Inn, Ramrod Restaurant and The Lewiston Orchard's Liquor Store. She was well known for her vivacious personality as well as her generous and compassionate heart. She will be forever missed.
Raetta is survived by brother Willie Smith and sister Linda (Tony) Gonzalez, all of Asotin; daughter Pam (Ron) Weyel of Lewiston; grandchildren Shane Weyel, Brenna Weyel and Jonathan Spaeth of Lewiston, and Amber (C.J.) Spaeth Frei of Cottonwood; great-grandchildren Tanner and Leighton Weyel of Lewiston, and Carter and Wyatt Frei of Cottonwood; niece Theresa Smole Larson and family, Wil, Lexie and Quinn, all of Seattle; nephew Michael and Efrain Smole of Colorado; Clyde Brown, who was like a father to her; and many friends who she considered family.
Raetta was preceded in death by her parents, Raymond Smith, Alberta Wilfong and Clarence Wilfong; aunt and uncle Delores and Bill Crawford; daughter Michelle Carlin; and grandson Blake Weyel.
Raetta and her daughter Michelle were laid to rest at Lewis-Clark Memorial Gardens. A celebration of life will be held on Michelle's birthday, May 20, 2018.
In lieu of flowers the family suggests donations to The Ronald McDonald House, Opportunities Unlimited Incorporated, The National Foundation for Autism Research or the charity of your choice.
Condolences
Owens Family / Spokane
We are shocked to hear of this awful ending. our thoughts and prayers are with you over the loss of Raetta and Michelle.
Tuesday, December 5, 2017 2:58 PM
Offer Condolences