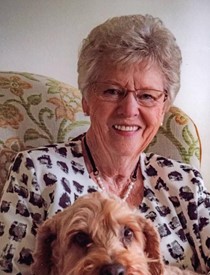 R. Joanne Bolick
4/4/1938 — 11/29/2021
R. Joanne Wolf Weiss Bolick passed away peacefully in her home Monday, Nov. 29, 2021. She was 83.
Born to Fermon L. and Helen I. Wolf, Joanne was the second of 12 children who grew up in a large family home on Alder Avenue in Lewiston. She attended grammar school through high school in Lewiston. She is a member of the graduating class of 1956. She remained close friends with a group of classmates through her life.
Joanne cherished being a part of that big family. Lifelong skills and values were kindled in her from that rich experience. Her family has always been of utmost importance. She and her siblings along with her mother were known for rousing scrabble matches and card games that went into the wee hours. Her many nieces and nephews were among her life's treasures. "Wolf Day's" was an annual celebration of family, and Joanne and her siblings carried it out for many years so that "the cousins" would have lasting relationships.
In 1956, Joanne Wolf became Joanne Weiss after marrying her high school sweetheart, James H. Weiss "Jim." They enjoyed an idyllic life together farming with Jim's parents, Bronson and Pauline, at the Zinn Ranch. Jim and Joanne were blessed with two sons, Michael J. and Kenneth H. Weiss. Joanne worked at a local boutique, Aleuradine's, and thus began her love of fine dishes and tableware. She loved her time there. Jim and Joanne enjoyed boating and were snowmobile enthusiasts. They were active in 4-H and loved the Nez Perce County Fair. This all changed in 1973 when Jim lost his life in a construction accident. Joanne worked at a local title company at that time and continued to raise her sons with a firm and loving heart. Her boys were devoted to her. She certainly was to them.
On Dec. 1, 1975, Joanne married Jack D. Bolick, of Asotin. The family was expanded to include Jack's three children, Linda, Barbara and John. They made their home on the river in Asotin and she absolutely loved waking up to the river each day. They farmed together and Joanne was very active and knowledgeable in their farm life. During this time, they enjoyed travel and started their marriage with a honeymoon to England. They traveled to various other countries and parts of the United States. The Kentucky Derby was a favorite of Joanne's. Together, they enjoyed camping with the Good Sam Club, and created memories with those special friends. Boating was a big part of their life and boat camping at Dworshak Reservoir was always a must before harvest, as were the trips to the Oregon Coast with Jack and continued with family later on.
This, too, ended in 1997 when Jack passed away. Joanne carried on, stewarding her business and stayed active with friends and family. She attended many sporting events, rodeos and anything the grandchildren had going. They were a delight to her.
Joanne was an intelligent, engaged woman who knew her mind. She was very detail-oriented and nothing slipped by. She was a no-nonsense person who was compassionate and kind and also had a wit and sense of humor. Simply put, she was a joy. Her style was impeccable. Her garden skills were amazing. Her love of trees and all things in nature were a gift from her father. She loved doing physical things and even recently you may have seen her mowing her lawn on her John Deere rider. She was insistent on doing as much as she could, which was a lot. Long drives were something she absolutely loved to do. You knew if you got in her car ... it was a commitment. She might end up several hours away, enjoying the wheat fields and comparing crops in some part of the state, or checking out the timber somewhere. By her side was her trusted "whoodle" Abbey, her cherished pup.
Joanne was a proud American and a member of the Daughters of the American Revolution, a member of Philanthropic Educational Organization Chapter FE, the Pollyanna club of Tammany, and was honored to do her civic duty on the election board in Asotin County. She served on the Board of the Asotin Historical society. She attended the Asotin Methodist Church.
Those who knew Joanne will attest, she never once felt sorry for herself for anything, ever. She truly carried on in life. She is a testament to strength, kindness and generosity. We as her family and friends have a gaping hole that shall not be filled with her passing, but she would expect us to carry on. Joanne's eldest son, Mike passed away in an accident in 2019. She is survived by her son Ken (Janine), of Asotin, and daughter-in-law Linda Weiss, of Twin Lakes, Idaho; stepdaughters Linda Swearingen (Danny), of Lewiston, and Barbara Bolick, of Clarkston; granddaughters Kara Heimgartner (Brian), of Genesee, Melanie Torrez, of Clarkston, and Molly (Zac) Mikolajczyk, of Bury Saint Edmonds, England: and Carrie (Mike) Loomis, of Lewiston; grandsons J.D. Weiss (Kristina), of Spokane, Jake Weiss, of Clarkston, Marcus Swearingen, of Lewiston, and Chris (Lisa) Close, of Rathdrum, Idaho. She is also survived by multiple great-grandchildren, with one on the way. Her surviving siblings include Marylou Cook, Anita Kelso (Marvin), Linda Klindworth (Bob), Judy Hendrickson (Mike), Janice O'Connor (Doug), John Wolf (Virginia), Susan Waibel (Dave), Sharie Westby (Ken), and Royce Wolf (Teresa). She is also survived by many beloved nieces and nephews.
She was preceded in death by her first husband, James H. Weiss; second husband, Jack D. Bolick; son Michael J. Weiss; stepson John D. Bolick; sister Pamela Shawley; stillborn sister Donna Wolf.
A celebration of life will be at 11 a.m. Saturday in the Mahogany Room at the Holiday Inn Clarkston, located at 700 Port Drive, Clarkston, WA 99403. Reception to follow.
Memorial to in lieu of flowers can be made to the Asotin Historical Society, PO Box 367, Asotin, WA 99402; PEO Chapter FE, Care of Cindy Wiggins, 3887 Lakeview Drive, Lewiston, ID 83501.
Service Information
Date & Time

Saturday, December 4, 11:00 AM

Location

Holiday Inn
700 Port Drive
Clarkston, Washington 99403

Get Directions
Offer Condolences