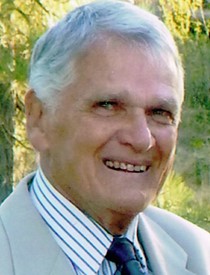 Phillip Crosby
4/4/1936 — 4/19/2019
Phillip Eugene Crosby, 83, of Lewiston, Idaho, passed away peacefully on Friday evening, April 19, 2019 at Life Care Center from complications of a stroke.

Phil was born in Terre Haute, Indiana on April 4, 1936.  He attended public schools in Terre Haute and graduated college from Indiana State.  He married JoAnn Hunt on April 5, 1957.  In 1959, they moved to Lewiston, Idaho where he taught Earth Science at Jenifer Junior High for 31 years. They had four children:  Eric (Rick) Michael, Randall (Randy) Phillip, Bradley Jacob and Michelle Diane.  Phil received grants to attend summer classes at Colorado State University, Lamar University in Texas, Western Michican University and received a Masters Degree at the University of Idaho.  In addition to teaching, he was a basketball coach and activity director.  His hobbies included hunting, fishing, basketball, golf, skiing and dancing.  Also a long time member of Lewiston Elks Lodge and Moose Lodge.

Phil met Louise Hill in 2011 and were married September 11, 2012.  He enjoyed wintering in California and took cruises to Hawaii, Tahiti, Panama Canal, Europe, Great Britain, Caribbean, Mexican Riviera, Alaska and Australia.
He is survived by his wife Louise, son Rick (wife Kathi), son Randy (wife Gina) and daughter Michelle (husband Darren), 7 grandchildren, 5 great grandchildren, 2 sisters, 1 brother and Louise's 2 daughters and 3 grandchildren.  Phil was preceded in death by his wife JoAnn and son Brad (wife Tami).

A private family graveside service will be held on Friday at Normal Hill Cemetary followed by a Celebration of Phil's Life at 2:00 pm at the Lewiston Elks Club for family and friends.  At the family's request, in lieu of flowers, please consider making a donation to the Bradley J. Crosby Musical Scholarship fund c/o Lewiston Independent Foundation for Education (L.I.F.E.), 3317 12th Street, Lewiston, Idaho 83501.
Service Information
Date & Time

Friday, April 26, 2:00 PM

Location

Lewiston Elks Lodge #896
3444 Country Club Dr
Lewiston, ID 83501

Get Directions
Condolences
KC Albright
To Phil's family,
I wish to express my condolences to all of you. I was a colleague and friend when I was with The Lewiston School District. I just learned of Phil's passing and wish I had been in attendance at his memorial but we winter in the south.
I tried to find a family address to send a card but was unsuccessful. I think the boys will remember me as I was their teacher/coach. I loved working with your Dad.
As per your request I'll make a contribution to Brad's memorial fund.
I'm very sorry for our loss! KC Albright
Monday, May 20, 2019 7:55 AM
Offer Condolences