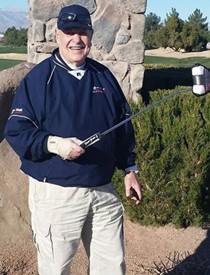 Phil Waggoner
2/27/1939 — 9/11/2023
Phil H. Waggoner passed away Monday, Sept. 11, 2023, with his wife, Dana, at his side. He had been ill with Alzheimer's disease for the past few years.
Phil was born Feb. 27, 1939, in Ishawooa, Wyo., a place near Yellowstone Park that was home to Buffalo Bill Cody's T E Ranch. His mother, Frances, was a cook at the ranch and his father, Kenneth "Pee Wee" Waggoner, was an all-around maintenance guy who could fix anything. Phil was their first child, then came brother George. The family was completed with sisters Sheila and Sheryl after they moved to Powell, Wyo.
Phil attended Chadron State College in Nebraska where he earned undergraduate and master's degrees in health science and counseling. It was there that he became a friend of Bill W., a friendship that lasted close to 50 years.
He worked at West Nebraska General Hospital in Scottsbluff, Neb., as an outreach specialist counseling in smaller communities served by the hospital. This is where he met Dana Boyd. They married in 1983.
He developed expertise in creating drug and alcohol programs that met requirements for state and federal licensing bureaus. This skill was highly valued as a means of providing help for those suffering from addiction. He created programs at St. Luke's Medical Center in Denver, Colo., Campbell County Memorial Hospital in Gillette, Wyo., and finally was recruited by Rivercrest Hospital in Lewiston in 1992. After working for "others," he opened his own outpatient counseling center — Riverside Recovery in 1994. For 22 years he felt honored to work with thousands of people in the area. The clinic was sold to Sara Bennett who continues his work with addicted families and has added mental health services.
Although his vocation was counseling, his passion was golf with Lewiston Golf and Country Club as his home base. He renamed himself "Daddy Waggs," by which he was known. He formed a group called the "Rat Pack," a group of "better than average" golfers playing three to four times a week. He liked the fact that all the members were at least 20 years younger. They went on many trips together golfing at various courses around the area. He created a 9-hole, Par-3 game as an addition to the member-guest tournament, and the "Spook Shoot" in October. Best of all he was proud of shooting his age at 69.
He was preceded in death by his brother George Waggoner. Survivors include his wife, Dana; daughter Shaylene Osborne (Craig); son Shad Waggoner (Shandra); sister-in-law Joan Waggoner; sisters Sheila Sales (Don) and Sheryl Christensen (Bob); six grandchildren and two great-grandchildren.
Dana is grateful to all those who wrote letters to support Phil's return to North Central Idaho for memory care. They were a tribute to his many ties in this community. Thanks is also due to Sara Bennett and Anthony Tenny at Riverside Recovery with special appreciation to Kellie Baker. Phil received excellent care at Palouse Hills Memory Care in Moscow.
Inurnment will take place at Crown Hill Cemetery in Powell, Wyo., in the spring. If you wish, please donate to a charity of your choice in Phil's memory.
Offer Condolences