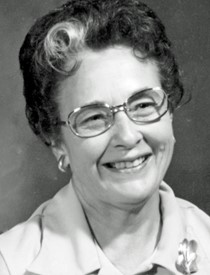 Pearl Groseclose
11/8/1916 — 12/11/2017
Longtime Juliaetta resident Pearl Groseclose passed away Sunday, Dec. 11, 2017, at the age of 101 in Lewiston of causes related to age.
Agnes Pearl Winters was born Nov. 8, 1916, in Redding, Calif., to Sherman and Daisy Winters. Pearl's mother was part Blackfoot Indian and Pearl was fond of her Indian heritage. Pearl's family lived in Southwick. She went to school in Juliaetta, where she met her future husband Lewis "Lude" Groseclose. They were married Nov. 14, 1931, in Asotin. They farmed at Southwick several years then moved to Camas, Wash., where Lude worked for Crown Zellerbach. In 1945, they moved back to Idaho and settled in Juliaetta. They raised two sons and a daughter.
Lude passed away Nov. 29, 1992.
Pearl was a housewife and also worked two summers at Twin City Foods sorting peas, at the Juliaetta Elementary School cafeteria and at University of Idaho sororities.
Holidays, family and friends were very important to Pearl, and she loved to cook delicious meals. She was a wonderful cook. They grew a large garden and she canned all kinds of fruits and vegetables. The cellar was always stocked, and she would often send her visitors home with the treasured preserves. She loved to have company and visit with family, friends and neighbors, always hating to see them leave. If company never came, you could expect her phone line to be busy as she could visit for hours.
Pearl was a member of the Church of the Nazarene in Juliaetta, where she had many friends. Her faith in God was always a comfort to her. We thank the Rev. Joy Lindner for providing spiritual support to Pearl the last several years.
Pearl was a very special lady and will be missed by those who loved her. She is survived by son Larry (Janice) Groseclose; and daughter Geneva Davis; grandchildren Denise (Bill) Hall, Dezra Marcell (Geoff Riener), Melissa Groseclose, Ryan (Jill) Groseclose, Alicia (Randy) Groseclose Lobb; great-grandchildren Justyn (Colleen) Hall, Emily and Matthew Groseclose, twins Amelia and Maddison Lobb; great-great-grandchildren Kaiden and Kailey Hall.
She was preceded in death by her parents; husband Lude; son Phillip; siblings William, Maude Strohm, Albert and Harry Winters; and an infant great-grandson, William Hall Jr.
A memorial service will be held at 11 a.m. Saturday at the Church of the Nazarene in Juliaetta.
Malcom's Brower-Wann Funeral Home is in charge of the arrangements.
Service Information
Date & Time

Saturday, December 30, 11:00 AM

Location

Juliaetta Church of The Nazarene
516 State Street
Juliaetta, Idaho 83501

Get Directions
Condolences
Ruth Ann Hutcheson
I have very fond memories of neighbor Pearl. She always had the best treats on Halloween!!! A kind lady who will be missed.
Friday, December 29, 2017 7:50 AM
Offer Condolences