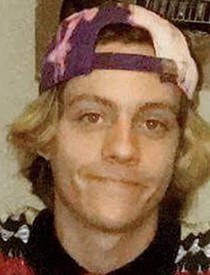 Patrick Fresh
12/29/1998 — 11/11/2017
Patrick Michael Fresh, 18, of Lewiston, passed away Saturday, Nov. 11, 2017, while surrounded by his family, friends and community with an outpouring of love and support.
Patrick, or "Paddy" as he was known to his close friends, was born in Thornton, Colo., on Dec. 29, 1998, to Chris and Kristy Fresh, and he was an only child. From the start, Patrick was a curious and outgoing child and loved exploring, looking for bugs or learning about dinosaurs. He was generous with both his friendship and toys, and probably the only thing his friend would say he would not share would be the last no-bake cookie.
After moving to Lewiston, he attended Jenifer Junior High School and Lewiston High School.
Patrick often traveled with his mom, exploring the United States, and took a part of each city with him. From learning to hail cabs in New York City, having Joe teach him how the Philly Boys cheer at Madison Square Garden, hitting Pikes with his friend in Seattle or finding his "fresh" hat in Atlanta. He loved to learn, meet new people and discover new things.
Patrick had a passion for music and spent many hours together with Austen and Keaton writing beats, making music and learning to play his keyboard. They spent hours together creating and working on their dream. Patrick was also learning to play the guitar.
Patrick also loved to create and design tie-dye and bleach-dye clothing - which many of his friends wear today. There were many times his mom would come home to a backyard full of drying clothes. She even found a few of her items in the mix. With his love of art and creation, Patrick started expanding his creating to art canvas and other projects - even challenging his mom to a friendly painting competition.
Patrick enjoyed camping and fishing, much like his Grandpa Pat, and would often tell his mom he was off to catch breakfast during the camping trips to Kelly Creek. He enjoyed sports, playing basketball and running track, as well as football. He enjoyed gaming and playing cards with his friends and could spend hours doing so.
Patrick loved to make people smile and was often known as the class clown. He had charm and a smile and just wanted to see people laugh and be happy. His joy came from seeing other people laugh. His friends and co-workers will tell you he spent his day always trying to make people laugh with his goofy, quirky attitude and they genuinely looked forward to working with him and seeing him coming through the door. He was always a breath of fresh air.
Patrick had a hard work ethic, whether cleaning stalls at the feed lot or busing tables at the Breakfast Club - he took pride in his work. His favorite color was yellow.
We often say as parents that we give life to our children but the reality is that they give us life - Patrick did that for us.
Patrick was preceded in death by grandfathers Pat Tyndall and Clift Chase.
He is survived by his mom, Kristy Fresh of Lewiston; father Chris Fresh of Coeur d'Alene; second mother Sissy Bickford; grandparents Sherry White, Duane Fresh, Patricia Raymond and Darlene Chase; as well as many aunts, uncles, cousins and close friends. He will be missed.
A celebration of life will take place at 4 p.m. Thursday at Malcom's Brower-Wann Funeral Home, 1711 18th St., Lewiston. A reception will follow immediately after at the Lewiston Eagles Lodge.
Service Information
Date & Time

Thursday, November 16, 4:00 PM

Location

Malcom's Brower-Wann Funeral Home
1711 18th Street
Lewiston, ID 83501

Get Directions
Condolences
Kristy
Our prayers are with you, your brothers and all of Patricks family and our thoughts with you. Please don't hesitate to reach out if there is anything we can do.
Love, Bob & Shari
Wednesday, November 22, 2017 11:21 AM
Julie Hoffpauir
My condolences to you Kristy. You and your family will continue to be in my thoughts and prayers in the days ahead. God Bless You
Thursday, November 16, 2017 7:22 PM
Chris barlow
Kristy I am so sorry for you loss. I know Patrick was a special young man that brought a lot of joy to your life. He was such a nice young man. My thoughts and prayers will be with you and I will always be here for you if you need to talk.
Love Chris
Thursday, November 16, 2017 8:42 AM
Derrick and Lorie Eggers
So sorry for your loss. Our thoughts and prayers are with you.
Thursday, November 16, 2017 7:39 AM
Michelle
Holding you in love, light and prayer today, Kristy and for the days ahead. Remembering Patrick and loving that I got to share my heart with him. I loved being "his Michelle" and am saddened that I have not seen him in so long to witness what a great young man that beautiful boy had become. I'll honor Patrick and promise him to be one of your many protectors. To hold you up when you are lost without him. He and I and many know your great strength and we all know how much you loved him and he, you. Patrick will be so greatly missed and forever in our hearts.
Thursday, November 16, 2017 6:51 AM
Grandma Pat
I will see you one day in heaven sweet boy.
Thursday, November 16, 2017 6:49 AM
Joe Lucchesi and Family
My heart goes out to Patrick, his family and his friends. Prayers were offered from Emmanuel Chapel in Philadelphia. I'm following the weather in Lewiston and I see the sun is due to come out prior to today's celebration of Patrick. I'm sure that is going to be a nice, loving tribute to a great young man.
Sincerely,
Joe Lucchesi and Family
Thursday, November 16, 2017 6:27 AM
D
Words fail me,... There is nothing any of us can say to ease your pain, answer why, make sense out of it all. Know this, Paddy loved you with all his heart Kristy, and what a beautiful gift from a son to his mother... His life ended but he is at peace and is looking down from above with perfect wings and a shiny halo with a devilish grin. Love you!
Wednesday, November 15, 2017 7:28 PM
Connie Bailey
Kristy my heart broke when i heard the news. I am soooo sorry for the loss of your little boy. I know in all my heart that he is going to be looking down on you and be with you every day for the rest of your life and you will see him again when it is your time. My thoughts and prayers go out to you and your familey. Love you, your friend Connie
Wednesday, November 15, 2017 5:31 AM
The Tanios Family
Dear Kristy,
I am so sorry for your loss. What a precious young man. Our thoughts and prayers are with you. You will meet this young man again one day!
Love The Tanios Family
Tuesday, November 14, 2017 5:30 PM
Rhonda Tanios
Kristy,
I am so sorry for your loss. Our thoughts and prayers are with you at this time. May god bless you and Patrick. You will all meet again one day. Love The Tanios Family!
Tuesday, November 14, 2017 5:17 PM
Tammie Scheirman
My heart goes out to your family Michael. You were the cutest little boy and very smart. May you fly with the Angels and watch over your family down here and know that they will all be with you again one day!
Tuesday, November 14, 2017 11:43 AM
Offer Condolences