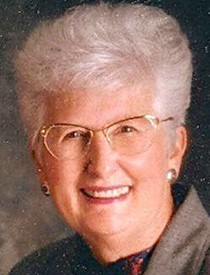 Patricia Nanninga
12/9/1930 — 12/9/2018
Patricia L. (Mosman) Nanninga, a longtime resident of Lewiston, passed away Sunday, Dec. 9, 2018, on her 88th birthday. Born in Lewiston in 1930 at St. Joseph's Hospital to Gerald and Margaret (Waldher) Mosman, she was the fourth of six children.
Pat attended Holy Family Elementary through the eighth grade and then graduated in 1948 from Clarkston High School. After high school, she worked at the State Bank of Clarkston on Sixth and Sycamore. On April 24, 1949, she married John (Buzz) H. Nanninga Jr. Pat and Buzz started their family with three children: Su, Cliff and Tom. During this time, Pat was a stay-at-home mom. After the kids started school, she went to work as an assistant secretary and bookkeeper at the downtown Elks Lodge. In 1966, she went to work as an understudy to Gladys Nanninga, co-owner of John's Electric. Subsequently, Pat and Buzz took over the ownership of John's Electric in 1966 and Pat became the vice president of finance. In the mid-1980s, Buzz was demoted to vice president in charge of labor and public relations and Pat became president of John's Electric until she retired in the mid-1990s. During these years, she became an avid golfer in the Lewiston-Clarkston Valley. She was the Lewiston Golf and Country Club Women's Club champion several times, was a member of the winning Tribune Cup team and won many sole survivor tournaments.
After retiring in 1992, Pat and Buzz enjoyed traveling with the Coachmen RV group and playing golf with the Pacific Senior's Association. Those trips began her love and desire to explore all 50 states. She also started taking the infamous "sisters' trips" with her sisters and mother to various locations of interest such as Crater Lake, south shore Lake Tahoe and Leavenworth, Wash., to name a few. The San Juan Islands was one of her favorite places to go. Pat and Buzz went there every year for more than 20 years with friends and family. Subsequently, their annual trip was to Branson, Mo., where they enjoyed the fabulous live productions of music and theater. She also had the patience to take her three grandkids in their RV (without their parents) for two weeks in the summer during the kids' teenage years. When she wasn't traveling, Pat loved playing bridge with her girlfriends, having family gatherings on Christmas Eve and going to church. She also adored fishing with Buzz, but only until she had caught her limit of fish.
She was preceded in death by her parents; twin brothers Harold and Gerald Mosman; sisters Virginia Stockwell and Carol Albright; sister-in-law Loraine Mosman; daughter-in-law Lori Nanninga; and grandson-in-law John Bergen III. She is survived by her husband of 69 wonderful years, John (Buzz) Nanninga Jr.; sister Marilyn (Terry) Frost; sisters-in-law Mary Mosman and Loretta Mosman; children Su Brown, Cliff (Vickie) Nanninga and Tom Nanninga; grandchildren Salena Bergen, Lindsey (Ryan) Reynolds and Jay (Lynette) Nanninga; great-grandchildren Logan Reynolds, Lane and Averi Nanninga; and numerous nieces and nephews. We left out all the horses, dogs, cats, cottontail rabbits, boa constrictors and iguanas.
A big thank you to the staff at Life Care Center that took such good care of Pat during the last six months of her extraordinary life.
A celebration of Pat's life will be held at 11 a.m. Tuesday at All Saints Catholic Church on 14th and Warner in Lewiston. A reception will follow. Memorial donations can be given in memory of Pat to All Saints Catholic School or to a charity of your choice.
Service Information
Date & Time

Tuesday, December 18, 11:00 AM

Location

All Saints Catholic Church
3330 14th Street
Lewiston, ID 83501

Get Directions
Offer Condolences